Streaming giant Twitch never reveals the reason for banning a content creator, for example, we might never know exactly
why DrDisrespect was banned
. In the latest ban controversy, a veteran World of Warcraft Twitch streamer and content creator for Cloud9, Mohamed "Ziqo" Beshir, it seems Twitch made a mistake, incorrectly issuing a week-long ban.
C9 Ziqo Twitch ban issued incorrectly
Mohamed "Ziqo" Beshir is known for his excellent World of Warcraft PvP content, and is considered one of the best Mage streamers out there. He has built up over 216,000 followers on Twitch. 
On 19th January, C9 Ziqo announced he couldn't stream for a "some days" and followed up by explaining he would be back on Wednesday, 27th January 2021.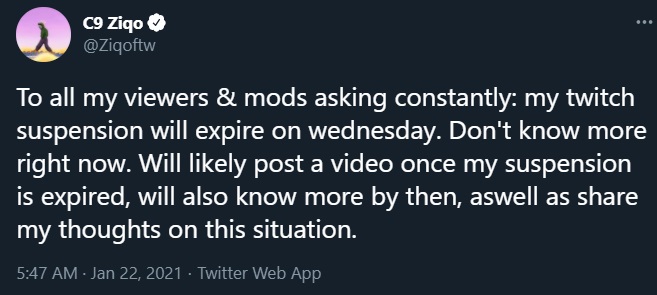 (Picture: Twitter)
C9 Ziqo got banned on Twitch, and made multiple attempts to get the reason for his ban. Days later, Ziqo revealed Twitch banned him for breaking Twitch TOS by "using a hateful slur during a VOD" but didn't give any specifics.
IM FREE DUDE THANK YOU SO MUCH EVERYONE

— C9 Ziqo (@Ziqoftw) January 25, 2021
He explains in a new video that: "I was never given any context, I was never given a clip. I was ignored in every attempt at trying to find out why I'd been banned. I feel like I haven't been heard. This is my first suspension ever, I just want to make sure that my side of the story is heard."
The lack of transparency on Twitch's side didn't sit well with Ziqo, and then out of the blue on 26th January, Ziqo got unbanned after six days and six hours.
While the famous World of Warcraft streamer still doesn't know exactly what happened, he did reveal Twitch finally responded after his ban gained a lot of traction.
Twitch response admitted a mistake was made with the Ziqo ban: "After reviewing this enforcement, we have determined that the ban was issued incorrectly."
While Twitch did admit the ban was issued incorrectly, there was still no clear, exact reason given as to why the ban was implemented in the first place. A frightening thought for Twitch streamers everywhere...