Jump King has become the latest craze amongst Twitch streamers as of late. In case you've been living under a rock, Jump King is an indie platform adventure game developed by Nexile quickly became a viral hit late last year following its "Ghost of the Babe" expansion. This came after notable streamers, like Summit1g and Lirik, popularized it by streaming the game on Twitch.
The game is best described as the "Dark Souls" of indie platform games and is ruthless in punishing players for seemingly small mistakes, which usually just end in disaster. Of course, this means that there are loads of hilarious fails videos of Twitch streamers attempting to progress in the game.
xQc rages at "broken" Jump King fail after 4-hour Twitch run
During a broadcast on the 9th of August, Twitch star, Felix "xQc" Lengyel, was left stunned after he burst out in rage. This was after he failed to make a difficult jump and descended several platforms (whilst undoing hours of progress) in the game.
A minor miscalculation on his part quickly turned into a massive disaster as the Twitch legend shrieked and proceeded to bite the rubber wrist mount of his keyboard. "What the f*** is going on with the game, it's broken!" he yelled before reclining back in his chair, stunned in utter disbelief.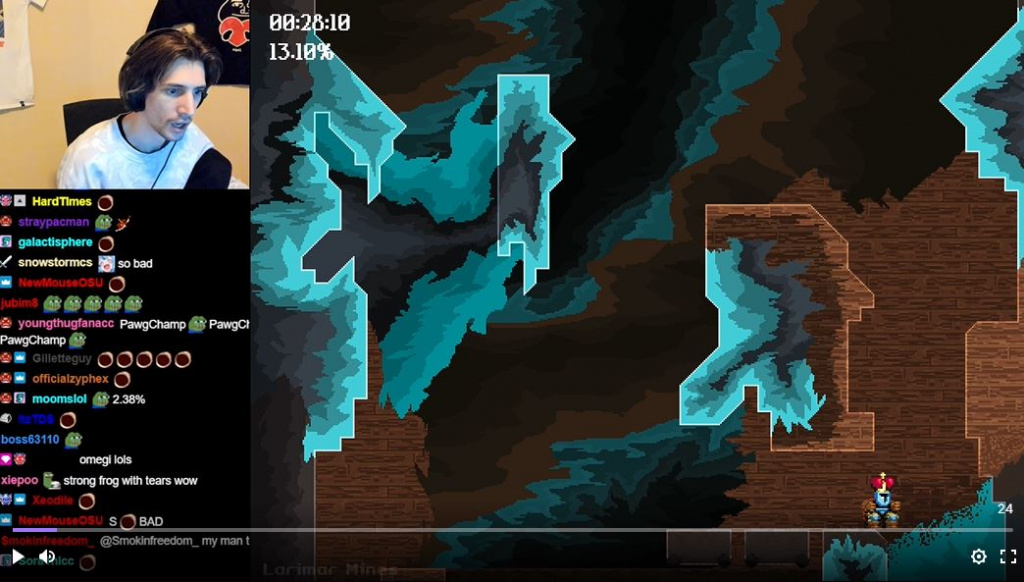 xQc had been streaming for about 4 hours, so his reaction was completely relatable. The cherry on top has to be the video below, which showed xQc outright rage quit after dropping countless levels. We can tell that he pretty gave up all hope at this point.
He's also not the only streamer to have reacted this way. In a previous article, we showed two epic fails (or rather, not so epic -- depending on whose perspective you look at it from) by Twitch stars, Ludwig and Forsen.
In the clips, we saw both streamers fall down the tower after each making just one miscalculated jump. To be fair though, xQc has actually completed the game in the past so he knew exactly what was in store.
It's clear that there is at least a handful of games that we know bring out the best in him. These games include Jump King (of course) and Call of Duty Warzone, which both have a proclivity to incite rather deep-rooted rage.
With that said, we are certain that we'll see a lot more crazy reactions from him and other Twitch streamers in the near future.
Don't forget to check out our dedicated Twitch section for news, streamer antics, drama, and more.
Header image via Twitch / xQc.