On 31st March 2021, Justine Paradise, a TikToker with 520,000 followers, and over 70 million likes, claimed she was sexually assaulted at a "famous YouTuber's house" and on 9th April 2021, she revealed this was famous YouTuber turned boxer, Jake Paul. According to Justine Paradise. Now, Jake Paul has responded to the allegations from Justine Paradise, completely dying the alleged sexual assault.
Justine Paradise sexual assault allegations
Let's first begin with Justine Paradise's sexual assault allegations against Jake Paul to get you up to speed. According to the TikTok star, she had to sign an NDA before entering the house, leading her to believe she couldn't talk about anything that transpired in the house.
However, she recently learned this was not the case, which is why she came forth with the sexual assault allegations.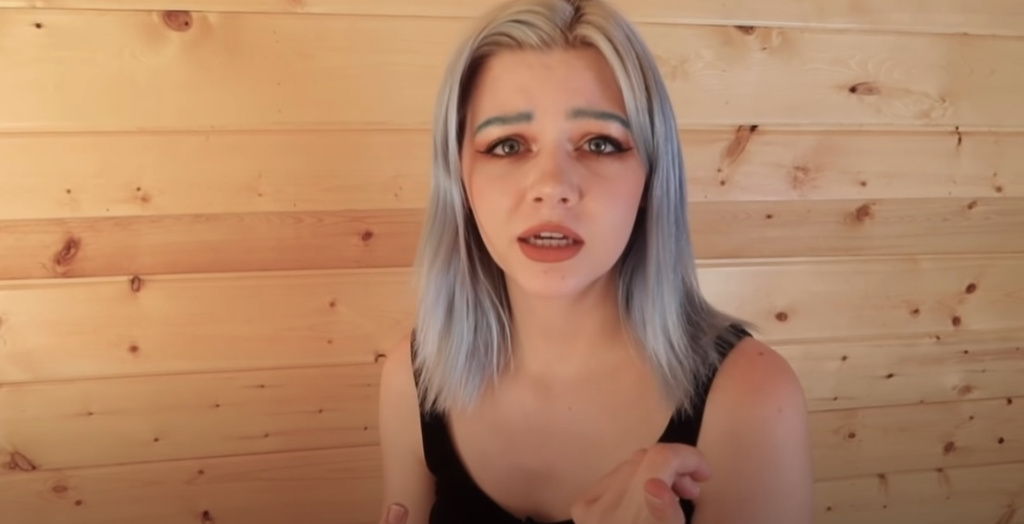 (Picture: Justine Paradise)
According to Justine Paradise, she was chatting to Jake Paul weeks before the alleged incident occurred in July 2019. 
Justine Paradise's explains: "We were dancing in his room, then we were like kissing and stuff, and then he like took it to his bed. Normally, everybody respects me when I don't want to do sexual things, so I thought it was fine I went in his room, and I thought it would be fine to kiss him because I thought he would stop if I didn't want to do anything else."
The video below is Justine Paradise's full account of the alleged sexual assault by Jake Paul. It contains explicit wording of a sexual nature, so please be advised this is not for people under the age of 18.
Justine continues by explaining how things allegedly escalated, as Jake Paul got frustrated saying "if nothing's going to happen, what's the point?" before standing up and assaulting her, forcing her to perform oral sex.
Justine Paradise claims that: "I couldn't tell him not to, he didn't ask for consent or anything. Like, he knew I didn't want to do anything with him."
Following the alleged incident, Justine Paradise claims Jake Paul cut off all communication with her.
Jake Paul responds to sexual assault allegations
Taking to Twitter, Jake Paul has categorically denied the sexual assault allegation by Justine Paradise. 
In his statement, Jake Paul said the claim against him is 100% false. You can read his entire statement below.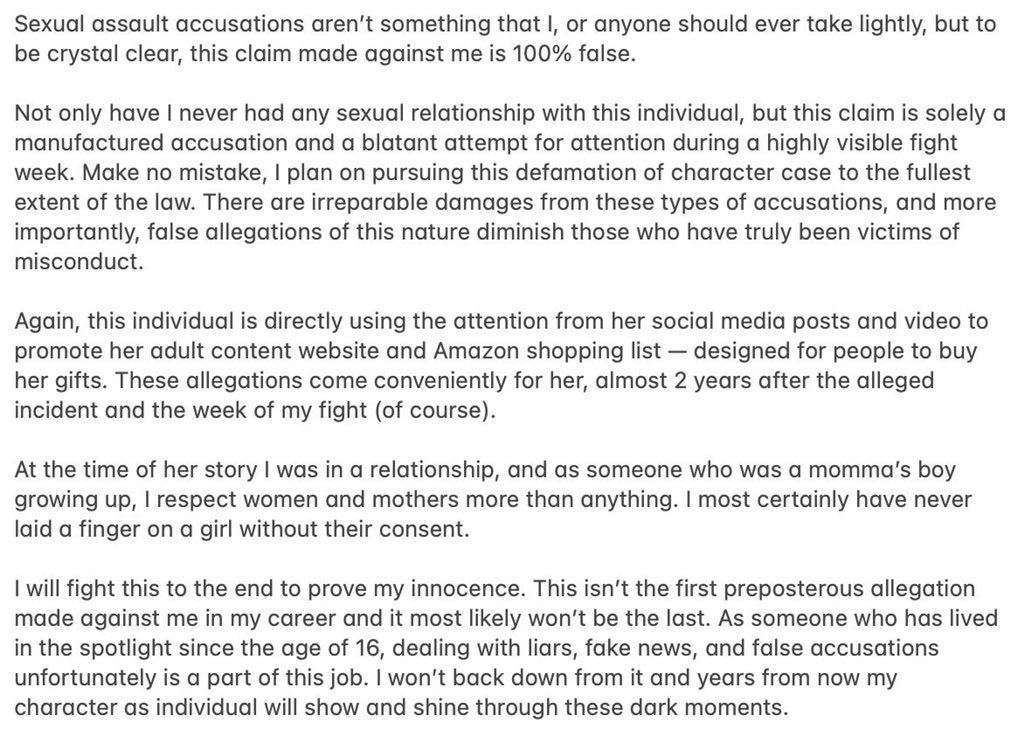 (Picture: Jake Paul)
Jake Paul's attorney, Daniel Gardenswartz, told The Washington Post in a statement that "Our client categorically denies the allegation and has every intention of aggressively disproving it and pursuing legal action against those responsible for the defamation of his character."
Jake Paul further noted how these allegations, two years after the claimed incident occurs, comes just before his boxing match against  MMA fighter Ben Askren, which is scheduled to take place on 17th April 2021.
The YouTuber further claims that Justine Paradise is using these allegations for attention on her social media posts, and to promote her video as well as her adult content website as well as Amazon shopping list...
As always with these types of stories, one should take both sides into consideration. Jake Paul has denied these allegations of sexual assault from TikTok star Justine Paradise.
It remains to be seen if further steps will be taken. At the time of writing, there seems to be no official criminal case opened against Jake Paul for these sexual assault allegations. However, the famous YouTuber did note he would be "pursuing this defamation of character case to the fullest extent of the law."
This is a developing story.