YouTube personality, Logan Paul, had spent over $3,500,000 in Pokémon cards, which he publicly announced on social media. While many in the card collecting community have been known to put down thousands, if not millions, of dollars on rare and valuable cards over the years, this amount doesn't appear to be suspicious at least amongst collectors.
This is reported not to be the case according to social media commentator, Dennis "Def Noodles" Feitosa. Def Noodles explained that the YouTube personality may have been scammed out of his Pokémon 1st edition Base Set booster boxes which are rumoured to be valued at over $3,500,000.
Did Logan Paul get scammed over fake Pokémon cards?
Def Noodles reported on the rumours of Logan Paul being scammed over $3,500,000 in Pokémon cards in his recent YouTube video upload on 2nd January 2022. While Def Noodles may have not supplied supporting information to corroborate why Paul may have been scammed, he did reference an article in his video by lifestyle publication, HYPEBEAST, which has been supported by evidence supplied from a Pokémon Trading Card Game (TGC) community.
The story reports that Paul may have been a victim of a sophisticated scam as many dedicated Pokémon collectors have been dubious over its authenticity. This was further supported by information from the Pokémon TGC website, PokéBeach, which have noted several inconsistencies with the "product's legitimacy".
Furthermore, Pokémon content creator, Rattle, first reported on this story back on Christmas Day, 25 December 2021. He has since created a YouTube series based on his findings and provided analysis as to why Paul's Pokémon cards aren't "authentic".
What were the red flags?
One of the first inconsistencies the community website reported was the eBay listing received little to no feedback and was plagued with several grammatical errors. They had also reported that the seller of these booster boxes had changed their username before the auction went live.
Secondly, the seller gave several contradicting stories about how they acquired the booster boxes in their possession which included getting them from an estate sale. Regardless, it first sold for $72,500 which the bidder then bailed when the seller wouldn't allow them to fly over for inspection.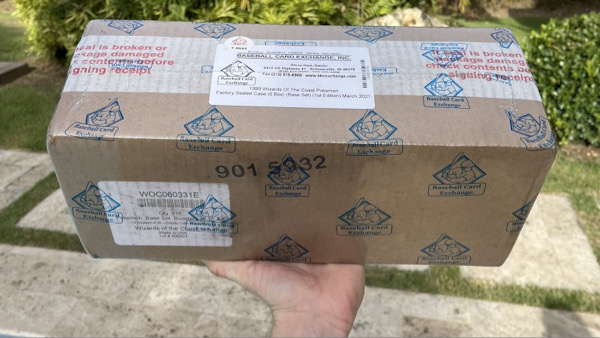 It was then sold to another bidder, CardKahuna, for an undisclosed amount. However, while the bidder did get an agency to inspect the authenticity of the cards, many collectors had pointed out that the agency in question, Baseball Card Exchange, did not have the record for inspecting Pokémon cards except for "individual booster packs".
It was later sold to another collector who goes by the Instagram handle, shyne150, for around $2,700,000 before being sold once again for $3,500,000, only this time, it was sold to Logan Paul.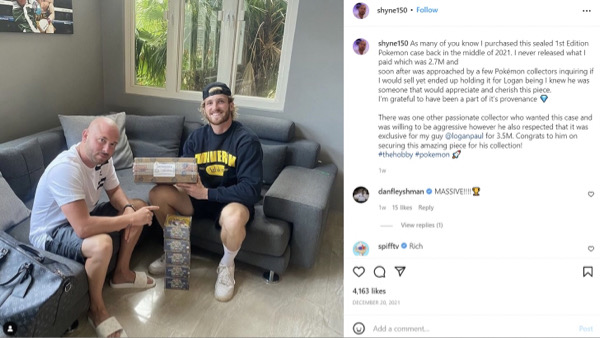 Other notable inconsistencies included discrepancies with the boxes' labelling and the possibility of the barcode either being altered or fake. The tape used to seal these booster boxes was reported to be not authentic and the authentication process conducted by the above-mentioned agency was also called into question.
As of writing, we still don't know what was in those boxes and whether a reputable authentication agency has properly inspected the cards, it's unsure whether Logan Paul has fallen into yet another scam.
the only known one in the world pic.twitter.com/UZEAavgD8e

— Logan Paul (@LoganPaul) December 20, 2021
Before concluding his segment on this developing story, Def Noodles responded sarcastically stating, "Maybe that's why Logan's so desperate to get that money from the Mayweather fight which he obviously deserves to get paid."
Don't forget to check out our dedicated YouTube section for the latest news, updates, streamer antics, drama and more.
Featured image courtesy of Twitter / Logan Paul.