There is no doubt one of the YouTubers who have been catapulted to the top in recent years has been Jimmy "MrBeast" Donaldson, who with more than 60 million subscribers, his great philanthropy and even a hamburger chain, has been one of the most influential people in any medium.
However, he has also been surrounded by a bit of controversy in recent days, ranging from accusations of misleading fans into a crypto scam platform known as Refinable, as well as allegations by some of his former editors in fostering a toxic environment.
What are the allegations against MrBeast?
These reports came through the New York Times, through a recently published article that talks about the success of MrBeast in the business world, and where its editorial team spoke with some of his former employees in charge of editing his videos, which receive millions of views a day.
Nate Anderson, who resigned from the notable YouTube philanthropist's team after just a week, commented that Jimmy was a perfectionist, as well as making unreasonable demands almost all the time: "Nothing ever worked for him. He always wanted it in a certain way."
Anderson uploaded a video after this on his personal YouTube channel titled "My Experience Editing for MrBeast (Worst Week of My Life)," which he had to delete shortly after due to receiving death threats and hateful comments from MrBeast 's followers.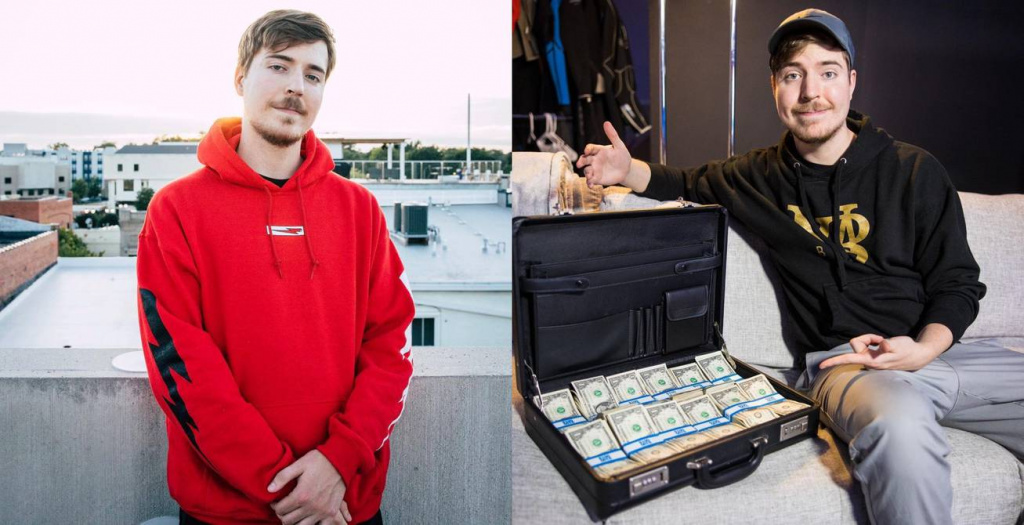 (Picture: MrBeast)
Likewise, Matt Turner, who worked for Jimmy from February 2018 to September 2019, said that the YouTuber used to berate him almost daily, going so far as to insult him with terms used to describe people with mental disabilities.
Turner also claims that Donaldson himself was not crediting him for his work and that when he insisted on doing so, Jimmy just said he would credit someone else. Turner also commented on being attacked by MrBeast fans by posting a thread on Twitter talking about his experience working for him.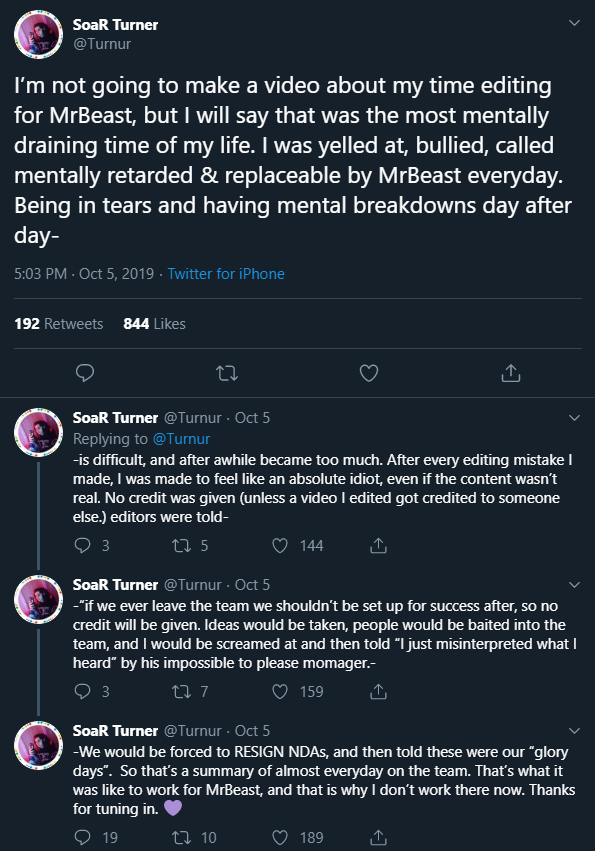 (Picture: Twitter)
The author of the article, Taylor Lorenz, commented on this for the outlet Insider, saying that "Working for a 22-year-old YouTube star isn't going to be the most professional work environment, but if you are posturing yourself as a business leader or the next Elon Musk, you should think about the type of work culture you're creating and what you are rewarding."
According to the New York Times report, there have been a total of 11 people who had accused MrBeast of creating a difficult and toxic work environment, saying that "his demeanour changed when the cameras weren't around".
As of this writing, both MrBeast, his representatives and his team have not responded to these allegations, however, it is expected there will be some reply to this in the next few hours or days.
This is a developing story and we will keep you updated. For more on famous YouTubers, drama and everything else on the streaming platform, check out our dedicated section.