Rachell "Valkyrae" Hofstetter has been on top of the world recently. 2020 was big, signed to an exclusive deal with YouTube and named Content Creator of the Year at the Game Awards, the 100 Thieves has taken that momentum and went even further in 2021, recently appearing in the video for Machine Gun Kelly's DAYWALKER! where she took on the role of CORPSE who featured on the track.
Being in the public eye though does involve a certain level of scrutiny and it appears that Valkyrae may have to consider her words more carefully in the future after comments made during a live stream had some viewers asking her to check her privilege.
The incident was innocuous enough and clearly came from a good place, as during Valkyrae's live stream she professed to "love girls" before remarking she was, "shocked (she) was straight."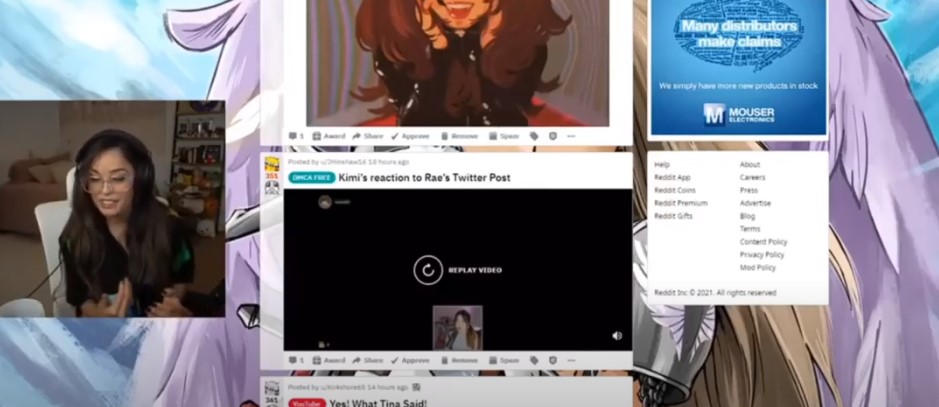 The comments came during a recent live stream. (Picture: Valkyrae)
The comments came as she was browsing Reddit on stream, asked by a viewer if she was in denial, she said: 
"In denial? I wish I was in denial but I am just straight, it's unfortunate. I am not sexually attracted to women but I think women are frick-in hot y'know?"
"I can appreciate beauty in women and women bodies and stuff but I am just not sexually attracted to it... and it's so sad for me.
Some viewers felt she was invalidating the experience of members of the LGBTQI+ community with sexuality not being something you choose and which can also complicate people's lives. Those who identify as part of the community are discriminated against in jobs, housing, and social services and more likely to face violence in their lives.
Valkyrae obviously agrees with those members of her community and she took to Twitter to apologise for her comments.
"As I was reading the VOD comments, some mentioned while they understand I didn't mean any harm, it comes off as invalidating lgbtq+ struggles as being straight is a privilege," wrote Valkyrae. "I understand & you're absolutely right. I'll do better!"
The response to her apology was positive with many thanking the YouTube star for taking into consideration their views.
Banner image courtesy of Twitter/@Valkyrae