Grammy award-winning artist Lil Nas X is an internet meme lord who just keeps coming back to the spotlight time and time again -- with this occasion involving X Games and skateboarding legend Tony Hawk.
After Hawk's Liquid Death Skateboard announcement, a special sale of 100 boards infused with Tony's own blood, Lil Nas did not hold back from commenting on the lack of critics for the item.
"Now that tony hawk has released skateboards with his blood painted on them, and there was no public outrage, are y'all ready to admit y'all were never actually upset over the blood in the shoes? and maybe u were mad for some other reason?", Nas tweeted out early 25th August, a post that went viral with over 250,000 likes at the time of writing.
The 22-year-old is referencing his controversial custom Nike 'Satan shoes' with drops of real human blood for his Montero (Call Me By Your Name) single rollout which led to a lawsuit from the shoe company for the unofficial modification and sale.
It is widely believed the lawsuit was fueled by the gigantic pushback from the masses regarding the heavily Satanic themed cosmetic being advertised to a young, impressionable audience like Lil Nas' -- hence the rapper disputing the same energy, or rather the lack of, for Tony Hawk's launch.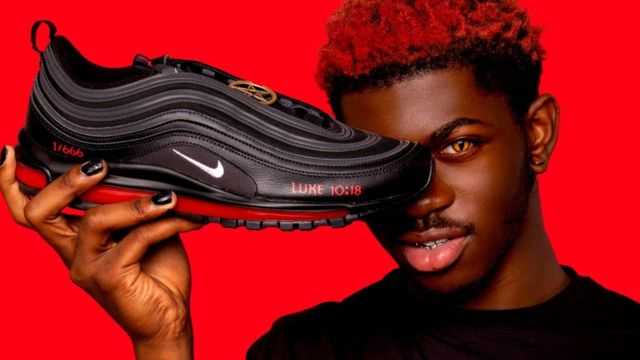 What is "nah he tweakin"?
In this context, tweaking or tweakin' (as it's used in the trendy reply) is slang for acting a fool, thinking crazy thoughts or being out of line; similar to tripping.
Lil Nas X replied to @rap's post on Instagram about Tony Hawk's bloodboards with the now-infamous three words that took Twitter and Instagram posts by storm.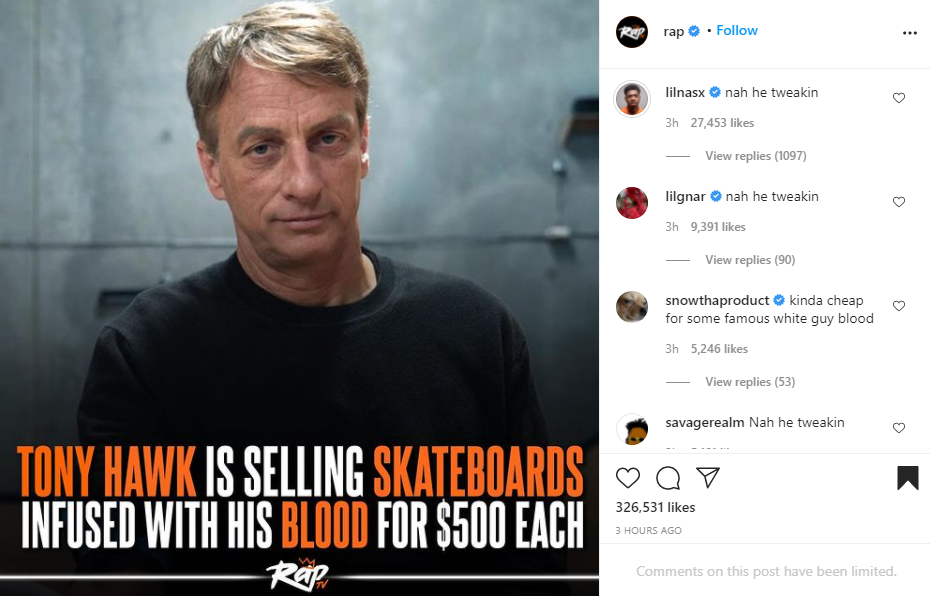 "Tony Hawk is selling skateboards infused with his blood for $500 each", the Rap post read… "nah he tweakin", Lil Nas X replied -- reply that has over 30,000 likes on Instagram at the time of writing.
Other theories circulating the web involve a web attack on the world's biggest platforms recurring to bot raids and hacks that hide replies that don't include the three trending words nah he tweakin.
Whether the replies are bot-born or not, it's clear that followers of the rapper and meme communities around the globe are joining in the efforts to spread the message, completely overtaking comment sections and ruining the fun for comment lurkers who are just looking for an extension of the original post's content.
Tony Hawk is yet to comment on Lil Nas' reaction to his unique skateboards. We'll keep you updated as the situation develops.