On January 6, 2019, teams from Ebuyer, SCAN, BOX and PC Specialist will return for a grudge rematch in the Battle of the Brands tournament. It will be broadcast live online for everyone to join in and contribute towards the amazing cause, raising money for gaming-centric charity SpecialEffect. Battle of the Brands will be celebrating the work of SpecialEffect, a UK gaming charity dedicated to putting fun and inclusion back into the lives of people with physical disabilities by helping them play video games. By using technology ranging from modified games controllers to eye-control, they're finding a way for people to play to the very best of their abilities.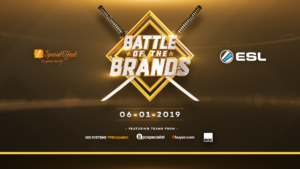 But they're not just doing it for fun: by levelling the playing field, they're bringing families and friends together and having a profoundly positive impact on inclusion, confidence and rehabilitation. The first Battle of the Brands saw the tournament attract over 222,000 viewers on Twitch,  reaching over a million people including Facebook and Twitter. Not only that, but the inaugural event had the aim to raise £10,000 for charity – with a total £16,729 raised for SpecialEffect. Tom Donegan, SpecialEffect Events Coordinator, said "We were so thrilled to hear that Battle of the Brands will be returning for a rematch in January! The first tournament was such an incredible success and we were absolutely bowled over by the total raised for SpecialEffect. It's so fantastic to see the industry coming together to stage this event in support of disabled gamers across the UK and having a LOT of fun in the process. May the best team win!" SCAN was crowned champions in the first ever Battle of the Brands – can they keep their title and stay on the top? Will BOX, last year's MVPs, take their ace performance and turn it into a win? Can Ebuyer put their money where their mouth is and use the fire they tweet with to win the tournament? Or have PC Specialist got the skills to pay the bills and rank the best?
UK retailer team lineups and their top influencers representing each brand will be confirmed on ESL UK social media over the coming weeks. Follow the action and get involved using the event hashtag #BotB.
You are able to donate and follow the fundraising story over at the Just Giving page.
Battle of the Brands will be streamed live from twitch.tv/esluk at 12:00 GMT on January 6, 2019.