Hearthstone is one of those eSports that can be tricky to keep track of. Much like StarCraft II - or, heck, Street Fighter - the rankings can often shift dramatically making it hard to know who's who in competitive Hearthstone. So rather than provide an immediate list of Hearthstone players worth watching out for, we've gathered up the names that you'll need to know if you want to get into Hearthstone eSports - and not only based on cash prize earnings. While this isn't an 'all-time' list, we've tried to take into account a lot of the more recognisable names that might not be at the top right now, and explain a little bit about who they are and why they're important. We'll adapt it over time, too, so don't worry about it being out of date. So if you're interested in Hearthstone eSports, here are the names that you need to know...
The Very Best Hearthstone Players
StrifeCro
Perhaps not the recognisable name he once was, StrifeCro is still a significant part of the Hearthstone scene for many. Born from a history in StarCraft 2 eSports, Cong "StrifeCro" Shu is no novice eSport competitor. But with Hearthstone he was an early adopter, helping to guide and design early decks and builds where many were struggling to comprehend the intricacies of the game. Over the last few months he's not had quite the success he once did at tournament level, but his prolific YouTube channel and Twitch streams - often as a means of Hearthstone education - keep him regularly in the public eye. Kripp Otherwise known as Kripparian, Kripp in fact isn't really a competitive player but, instead, a well-known and reputed Twitch streamer and YouTuber. His channels are often based around in-depth analysis of different decks and cards usage, and it's hard to deny his knowledge on the game is incredible. Though he might not have much of a competitive background he should, at least, appeal to anyone looking for more info of the state of Hearthstone. Xixo Expect to see Xixo's name at the top of leaderboards very regularly. Here's a player who makes it a goal to reach the top, and often stay there. His competitive streak doesn't end with climbing rankings, either, since moving into competitive play has been full of first-place victories. Over the last year alone Xixo has a number of wins to his name, netting a good chunk of prize money. His skills have been proven time and again, so it makes clear sense why Na'Vi wanted to claim him as their Hearthstone player - which he has done since October 2015. Reynad Another figure that hasn't seen much in the way of competitive success, but is still a considerable person to draw attention to. Many of the common decks that are used to this day were first conceived by Reynad, his history in Magic: The Gathering clearly having an effect on his approach to Hearthstone. Having now formed team Tempo Storm, Reynad spends as much time guiding the organisation's early path through eSports as he does on devising Hearthstone builds. Not one to watch for competitive HS, but definitely a name you need to know.
Tempo Storm owner Reynad
Kolento
Kolento has long been a figure of the Hearthstone scene, from his adaptive and original ways of using certain cards or decks to his prominent place in the competitive scene. He's not had quite the success he once did, but remains a constant in the higher echelons of the rankings, and still often posts decent results at Premier level. Now playing for Cloud9, Kolento's value comes not in his current state of play but his heritage, having won a largest portion of his tournaments during his early career. There's every reason to expect that he might one day climb back to the number one spot, but it's his interesting play that makes him an entertaining talent regardless of his victories. Lifecoach As an ex-poker player you can probably see how Lifecoach's skills have helped him to adapt to Hearthstone, and understanding the decks - and potential cards in his opponent's hand - gives him an edge as he decides what to play from his own hand. It's this analytical approach to the game that Lifecoach is best known for, often using the full timer of his turn as he analyses not only the plays of his opponent, but what varied possibilities he has with his own card. As a player for G2 Esports, his competition results are erratic to say the least - but it's not typical for Hearthstone players to regularly hit the podium. All the same, Lifecoach often comes top eight in his tournaments and commonly challenges for top spot.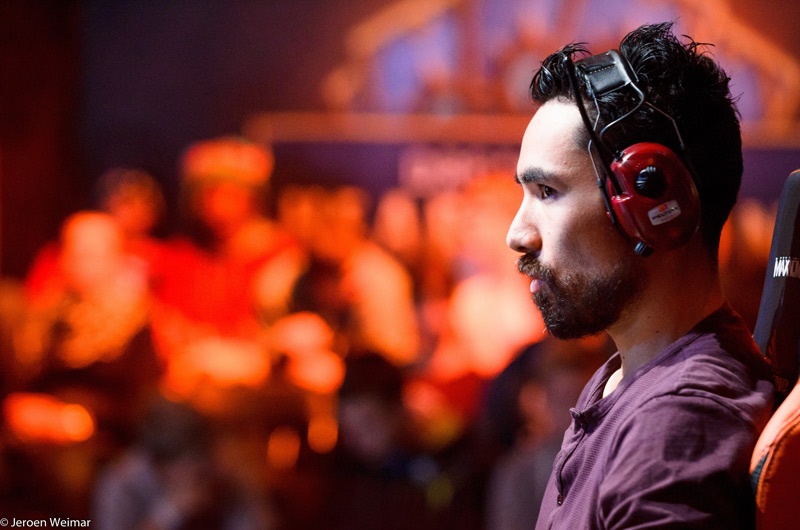 Lifecoach at a tournament
Firebat
Thanks to a couple of high placements at Premier events with a huge prize pool, Firebat still remains the Hearthstone player to have earned the most in cash throughout his career. His results might be varied, but it's the technical ability of Firebat that keeps him in control while he competes - often giving him the edge when it really matters at the bigger tournaments - that means he posts some of the most consistent results from any player. He's especially well known for his versatility, too, that allows him to feel comfortable playing a selection of different decks that often leads him to confuse and baffle his opponents. He's a big name in the Hearthstone scene, and definitely one to watch.