Please note: the following article discusses material of a sexual nature that might not be appropriate for younger readers.
Kaitlyn "Amouranth" Siragusa is easily one of Twitch's most recognised streamers thanks to her wildly popular and provocative hot tub and ASMR mic licking streams, which earned her a massive fanbase of nearly five million followers. Yet, despite this, Twitch is Amouranth's least lucrative revenue stream.
While Amouranth certainly rakes in a substantial amount of money from her newly purchased gas station and prospective adult toy business, the bulk of her earnings stem from her OnlyFans, which rake in over USD one million a month. More recently, Amouranth revealed how much money her first-ever topless video hauled in.
Amouranth OnlyFans video earns over 200k USD
On 22nd November, Amouranth posted a screenshot of her OnlyFans earnings page on Twitter, with the caption, "I'm thankful for that time I made USD 221,000 on just a video of my boobs."
I'm thankful for that time I made $221,000 on just a video of my boobs pic.twitter.com/ijDjhU3dSQ

— Amouranth (@Amouranth) November 22, 2021
In the screenshot, a video entitled, "100% topless. My first ever topless video! First time seeing my hard n**s with no clothing, hands or anything covering", was selling for USD 39.90 and had 5548 purchase requests. This surmounts to a total of roughly USD 221.4K.
Unfortunately, the rest of Amouranth's OnlyFans earnings were blurred out; however, it's insane that a single video raked in more than five times the average UK annual salary! At the same time, I can't say that I'm at all surprised.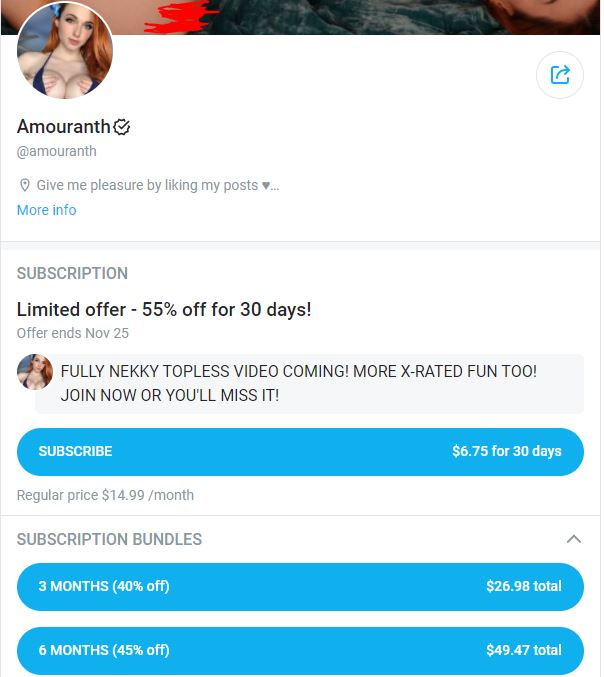 Earlier this year, fellow Twitch streamer Natalia "Alinity" Mogollon revealed that a video of her burping earned her over USD 50K, which demonstrates the absurdity of some fans (or simps).
Interestingly, Amouranth barely breaches the top 10 list of highest earners on OnlyFans. This list includes popular lewd-turned-p*rn star Belle Delphine and former adult actress Mia Khalifa, who earns roughly over USD 6 million per month.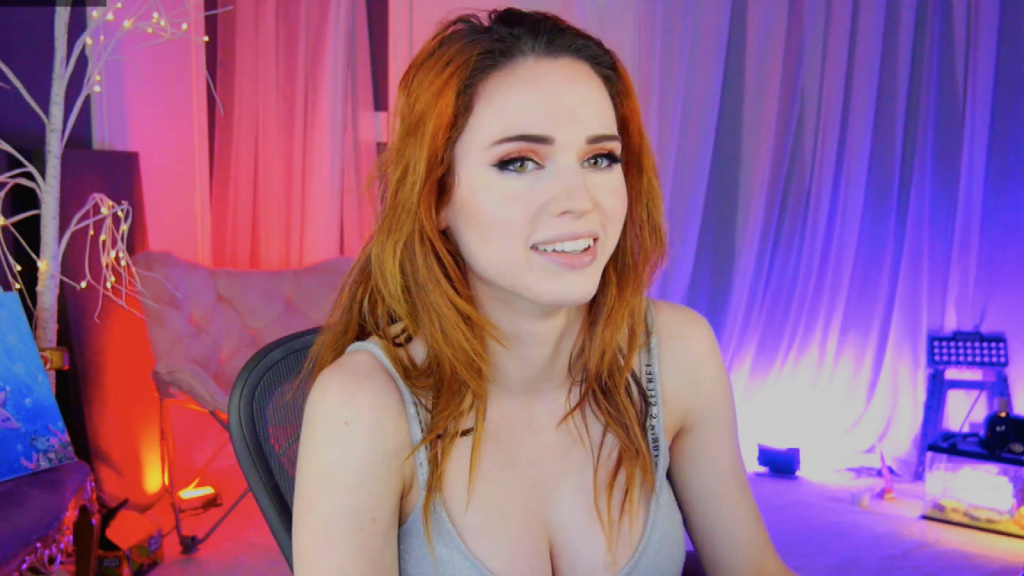 However, staying in the league of other popular streamers, like Facebook Gaming icon Corinna Kopf (or "Pouty Girl"), who earned USD 165K for her first "t*t pic", we'd say Amouranth is definitely winning.
Don't forget to check out our dedicated Twitch section for the latest news, updates, streamer antics, drama and more.
Featured image courtesy of Twitch / Amouranth.