Hasan "HasanAbi" Piker, an American streamer and content creator, has one million followers on Twitch, and over 434,000 subscribers on YouTube. Now, it appears HasanAbi also has a Spanish doppelganger on Twitch going by the name IlloJuan.
HasanAbi recently noticed his Spanish counterpart, which resulted in a hilarious exchange on Twitch.
HasanAbi & IIIoJuan on Twitch
First off, IlloJuan isn't a small-time streamer by any stretch of the imagination, with over 500,000 followers on his Twitch.tv channel playing Rust and having several "Just Chatting" streams per week.
HassanAbi also recently did mostly Rust streams, and "Just Chatting" streams on Twitch filled with political commentary.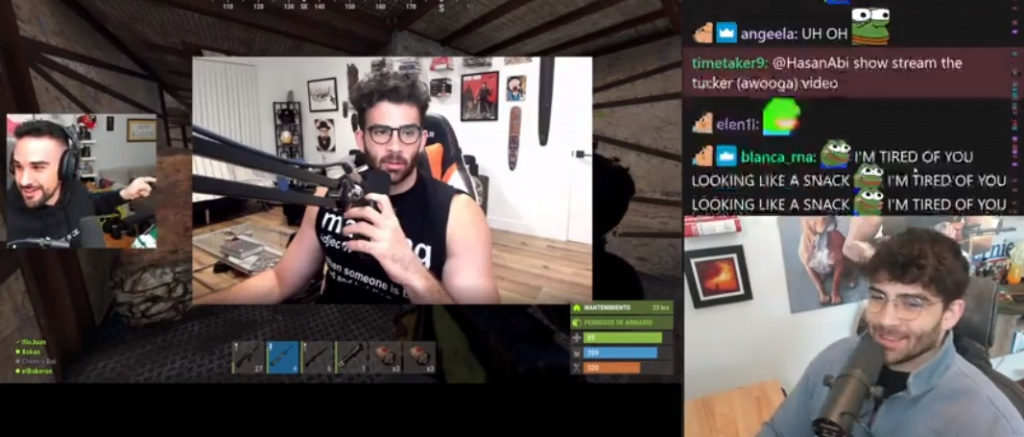 In a recent stream, the fanbase of the Spanish streamer IlloJuan described them as doppelgangers, which set off a chain reaction.
IlloJuan first talked about the comparison to HasanAbi in a hilarious stream, and someone captured a video of it all. This video was then spotted by HasanAbi, who watched it live and commented on his Spanish Twitch streaming doppelganger's comments...
Using an image of HasanAbi, IlloJuan commented "This guy? This guy me?" and proceeded to flix his biceps, saying "I am stronger".
HasanAbi responded by cracking his knuckles and exclaiming: "Hey, listen. It's on-site, motherf$%cker." 
Continuing on with his comments, IlloJuan said: "No, I mean, with glasses, maybe. But no, this guy is very strong. He kills me with one punch. Dangerous guy, this guy. What does this guy stream? He seems like he streams Team Fight Tactics."
At this point, HasanAbi's viewers broke out in laughter, and Hasan could only muster a "What?". 
Not IIIoJuan (Picture: HasanAbi)
IlloJuan continued to comment on how smart HasanAbi looked with his glasses on, all resulting in a tonne of laughter from fans of both streamers.
While there's a whole lot of drama in the streaming community, sometimes it's just fun to talk about a friendly exchange between HasanAbi, and IlloJuan, who really does look like his Twitch streaming doppelganger.