Jenelle "Indiefoxx" Dagres is a controversial icon amongst the Twitch community and is best known for her overtly sexualized and provocative content, including her now-viral hot tub and ASMR mic licking stints with Kaitlyn "Amouranth" Siragusa. After being banned six times this year, Indiefoxx landed herself in hot water (excuse the pun) and Twitch subsequently rescinded her partnership and affiliate status. 
At present, Indiefoxx remains banned from the streaming platform and there's no indication that she will return anytime soon. In an attempt to make up for the lost revenue, Indiefoxx recently announced that she would be selling her (now limited edition) Twitch clips as non-fungible tokens (NFTs) through a partnership with Eternal.
Indiefoxx is selling Twitch clips as NFTs
Indiefoxx tweeted about the new endeavour on the 8th of July, citing: "I know a lot of you guys have been asking about Indiefoxx NFTs. Well, they're here! I have partnered with Eternal and they're gonna be helping me make NFTs."
Hey babes!! It is time! Check out my profile via @eternalapp at https://t.co/v1wmrllvyM and be on the lookout for my clips when packs drop at 10 am PDT. All Eternal NFTs are SFW ❤️ pic.twitter.com/uoP70e8YFi

— Indiefoxx 🌙 OF (@indiefoxxlive) July 8, 2021
For those who don't know what NFTs are, they are units of data representing digital assets (like photos, videos, documents) that are stored on the blockchain ledger. The blockchain ledger verifies the authenticity of the asset making it unique and non-interchangeable.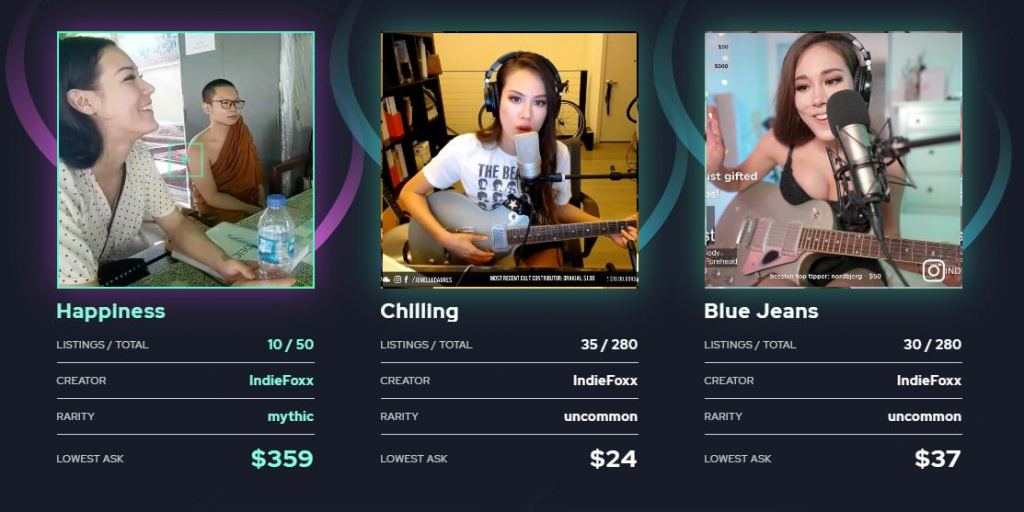 Indiefoxx goes on to explain that "they're sort of like digital trading cards, like Pokémon, but of top Twitch moments like from yours truly", adding "which are now very limited". She further indicated that whenever fans traded her NFTs, 10% of the transaction proceeds will go to support her.
Oh, and in case you're wondering - yes - the NFTs will cost you a pretty penny. Bids for one of Indiefoxx's NFT Twitch clips ranged between $375 to $12,000 per piece. Other NFTs can be snagged for between $85 and $800, whilst other "uncommon" rarities are much cheaper at the lowest asking price of just $24.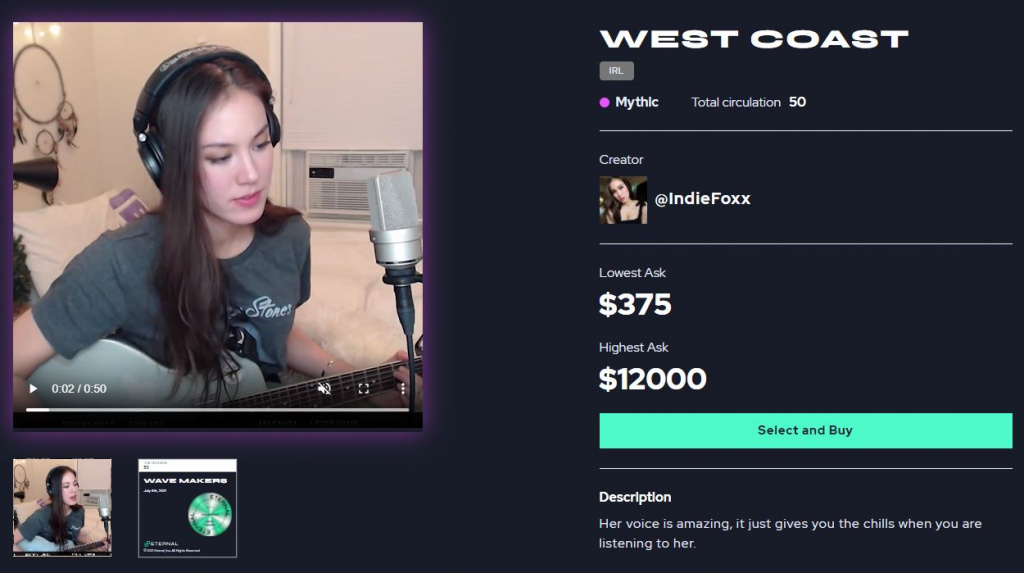 Interestingly, all of the Twitch clips available on the Eternal website are safe for work and do not include any of the former Twitch star's more contentious moments. Indiefoxx did indicate this in the tweet though.
Considering that the majority of her Twitch clips are arguably not safe for work, we wonder how many will make it onto the Eternal marketplace then. Indiefoxx tweeted that her NFTs sold out in just 30 minutes.
HoOLY SHITTT!! All my NFTs sold out in 30min wtf!! 😳😝🥺Thank you guys 😻❤️❤️seriously never done anything like this and am so happy right now. Thanks for making my day 😍 Sign up for notifications on my @eternalapp profile for future updates! https://t.co/v1wmrllvyM

— Indiefoxx 🌙 OF (@indiefoxxlive) July 8, 2021
You can head here to check out whether there are any more NFTs up for sale.
Don't forget to check out our dedicated Twitch section for news, streamer antics, drama, and more.
Header image via Twitter / Indiefoxx.