Music artist Austin "Mr Wobbles" O'Brien was banned from Twitch roughly three years ago. On 17th July, rising star and Twitch partner William "WillNeff" Neff was banned from the streaming platform for "aiding account suspension evasion" due to him "chilling with Mr Wobbles". Well, things have now taken a surprising turn, as Twitch has unbanned Mr Wobbles, after the streaming platform reviewed Mr Wobbles' appeal. 
Mr Wobbles unbanned following apology
Following WillNeff's three-day suspension from Twitch, Mr Wobbles made an apology video on his YouTube channel, saying he doesn't want to be on the OTV Rust server anymore, and he doesn't want to get anyone into trouble.
This apology video undoubtedly warmed the hearts of fans, and possibly Twitch as well. Mr Wobbles explains: "I'm so sorry to Will, I'm so sorry to Cyr, I'm so sorry to the people who made me feel like I could just hang out. I don't want to cause anyone to lose their channel. I don't want to be that guy."
Following the drama about WillNeff getting banned, both Neff and O'Brien worked together and apparently made an appeal to Twitch.
With the tearful apology and an outpouring of support, Mr Wobbles received a message from Twitch, saying he is now unbanned from the platform!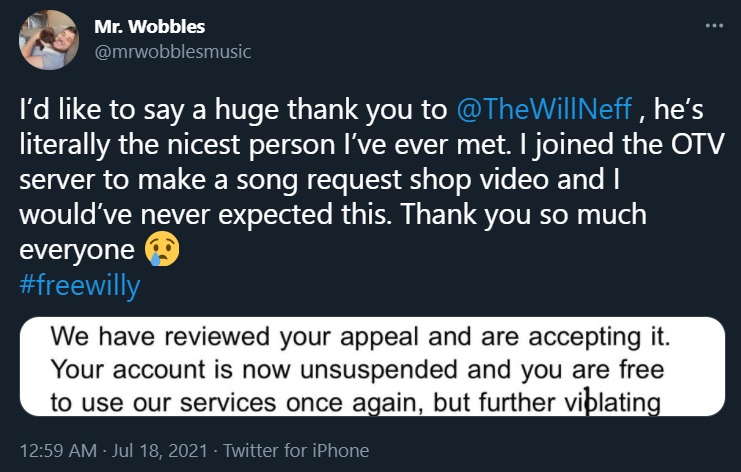 Mr Wobbles has already jumped back in to entertain his 19,000 followers on Twitch now that he is back after three years, playing some Rust on the OTV server.
Taking to Twitter, WillNeff congratulated Mr Wobbles on his return, stating: "Wobbles, you are a transcendent talent. I am so overjoyed to hear about your return. NOW GO ENTERTAIN THE PEOPLE WHILE I'M GONE!"
Yes, despite Mr Wobbles getting unbanned from Twitch, WillNeff seems to be serving out the rest of his three-day suspension. WillNeff should be back to streaming on Twitch from 20th July 2021.
However, considering Mr Wobbles has been unbanned, it is a bit odd that WillNeff's suspension remains in place. At least his fans won't have to wait long to see him return.
Don't forget to check out our dedicated Twitch section for news, streamer antics, drama, and more.