Imane "Pokimane" Anys and Félix "xQc" Lengyel are undoubtedly two of the biggest Twitch streamers to date and it was only a matter of time before their paths had eventually crossed. Such is the case when xQc asked Pokimane to play Valorant with him; much to the delight of both of their fans.
Despite the streamers having different opinions on a range of topics over the past couple of months, including Pokimane's response to GreekGodx blocking her and regarding his approach in tackling Twitch DMCA counterclaims, both streamers have had mutual respect for each other. So, naturally, many fans had anticipated the day they would be able to watch Pokimane and xQc play Valorant together on stream.
Pokimane lands crazy ace in Valorant with xQc
During a recent Twitch stream on 19th September, Pokimane spent the majority of her stream playing Valorant alone. This was until she received an invite to join xQc's party, which would undoubtedly become an entertaining stream to watch. It was no surprise that the streamers teaming together was something that should've happened a while ago.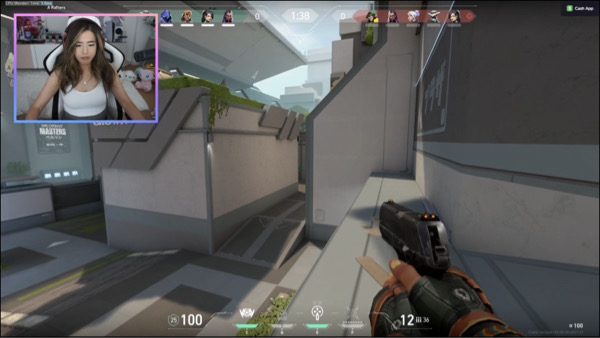 Both streamers had a rough start to their Valorant match but their luck quickly turned around as they picked up momentum late in their first match. One round, in particular, had both Pokimane and xQc dancing for joy in a moment worth watching on repeat.
Pokimane was the last player standing after her teammates were eliminated. As a result, she was left with the difficult task of eliminating the remaining enemy team members, while xQc was watching. Methodically, taking each enemy player out, Pokimane eventually hit an ace before xQc erupted with joy, screaming "ah, what the f*** man" at the top of his lungs, in the voice chat.
One user on Reddit took the time to express how proud they were of Pokimane over the last week and how good of a team Pokimane and xQc are in Valorant.
"I think xQc and her make a great match. Not just in-game, but in general through life. They are such good friends and Valorant teammates. I can't remember the last time someone made her laugh as much as he does. His pepeganess is contagious and loveable, and she recognises that... I've been proud this past week."
We certainly agree and look forward to watching even more streams just like this one.
Don't forget to check out our dedicated Twitch section for news, streamer antics, drama, and more.
Feature image courtesy of Twitch / Pokimane & xQcOW.