As far as speedrunning Twitch bans go, SnaggyMo is really going the distance. Following a stream that began at roughly 06:00 CET on 2nd June, SnaggyMo got handed his 5th Twitch ban since September 2020. This also makes the most recent ban his 4th in 2021. While SnaggyMo was unbanned after three days following an ordeal with an OnlyFans girl, the latest ban could be a permanent one.
SnaggyMo's 5th Twitch ban: Is it permanent?
The streaming platform never really gives an exact reason for banning a streamer, and when it is an "indefinite" ban, a streamer might return following a successful appeal, or not, ever.
Therefore, it is impossible to say if SnaggyMo will be banned permanently, or if he will be able to successfully appeal to Twitch.
On Twitter, SnaggyMo said: "Damn, they really didn't wanna see me win. Crazy. Speechless" and then shared an image of the suspension reason from Twitch, which notes "Accidental Nudity or Explicit Sexual Content".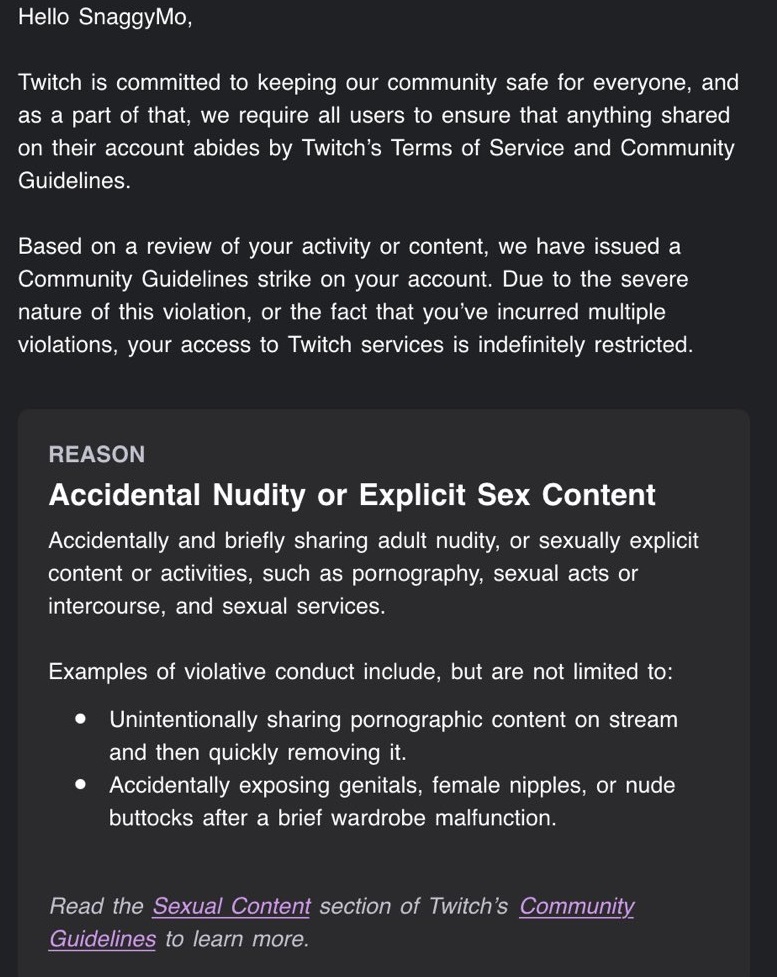 (Picture: SnaggyMo)
So what happened for SnaggyMo to receive his 5th ban from Twitch? Well, he was streaming his experience on Yubo, a French social networking app. This app has been called out for being a dating app for teens.
During his stream, a female showed her bare behind to SnaggyMo on Yubo. This does fall under Twitch's sexual suggestive content policy and "accidental nudity" since he couldn't control what the other Yubo user would do.
SnaggyMo's ban history (Picture: StreamerBans)
At the time of writing, it is unclear how long Twitch partner SnaggyMo's ban will last. Since this is his 5th ban, it could even be a permanent one, and the Twitch suspension image shared by SnaggyMo does say "indefinite". 
Check out our dedicated section for more Twitch news, from the antics streamers get up to, drama, and the hot tub meta and more.