In a recent stream, Twitch Warzone streaming star Mason "Symfunhy" Lanier seemingly used the "n-word" racial slur while speaking to TSM's Ali "Myth" Kabbani. Both Myth and Hasan "HasanAbi" Piker, among others, quickly came out in
defence of Symfunhy's character
but no official statement from the Warzone star regarding this issue was made, until now...
Symfunhy denies use of a racial slur
In the early hours of the morning on 1st March 2021, Symfunhy came out to make an official statement on the racial slur controversy. 
The Warzone Twitch streamer has denied allegations of using the "n-word" live on stream, despite noting how he knows it might sound like that.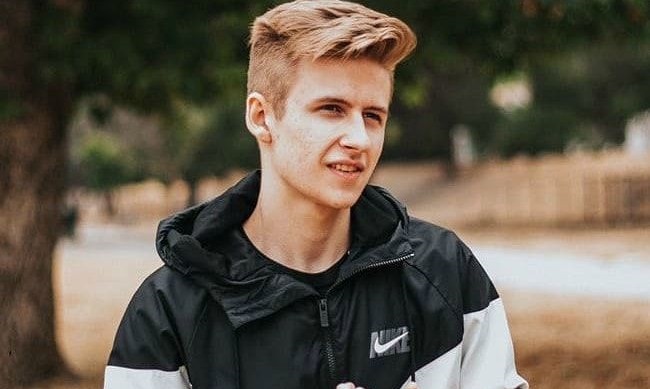 (Picture: Symfunhy)
The official statement was made via a TwitLonger post. In the post, he started off by explaining that those who know him know he has never had anything like this happen, and how different people have given him different advice on how to handle this debacle.
However, according to Symfunhy, he went with an honest response, stating: 
"I know what the clip sounds like -- I've watched it a hundred times. But I was also there. I can't tell you how to feel, but I can tell you I didn't say the n-word. I don't use the word. It's not in my vocabulary.
"Ultimately, each of you that trust me with your time and support will have to look at what you know of my character and decide if you believe I'm being honest here. If you watch my stream often you know that I stutter and speak too quickly, which is something I've had my whole life."
You can view the clip in question, which many believed to be the use of the racial slur (n-word) by Symfunhy below.
Symfunhy continued by staying he is embarrassed and mad at himself for jumbling his words so badly.
Some people have come out to defend Symfunhy for what they believed was the use of a racial slur, saying how it is just a word. To those, Symfunhy said: "It's harmful and hurtful, it's a calling card for past and current racism, and I don't condone using it at all."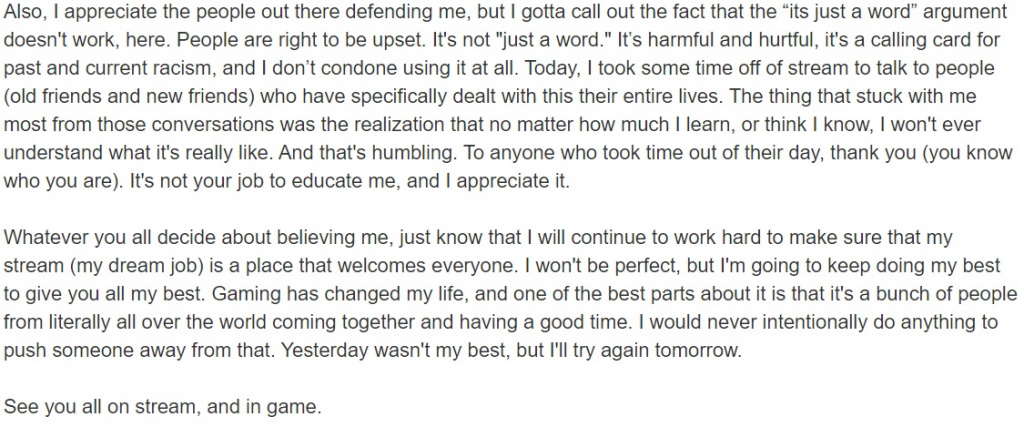 (Picture: Symfunhy via TwitLonger)
Symfunhy concluded by saying he will continue to work hard, and how he will see his fans on stream and in-game. 
At the time of writing, Symfunhy has not received any type of ban on Twitch. His Twitch channel, with 3 million subscribers, is still going strong.