Every week, Zestats compile some of the most comprehensive Twitch stats available and provide them to us to see the streamers and games that have been most popular in recent days. This week is no different, but we've seen some pretty significant changes in the numbers.
The streamers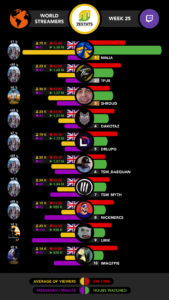 Since we started reporting on these stats, this is the first time the duo of Ninja and Shroud haven't sat comfortably as the top two, and also the first time Tfue has got himself into the top ten – not a bad way to make your mark. Tfue, pro player for FaZe Clan, has become known as one of the best Fortnite players in the world. He has won three of the five Friday Fortnite tournaments that he has competed in, alongside teammate Cloakzy, and is (evidently) growing his Twitch and YouTube accounts exponentially. Away from Tfue, we see Myth return after dropping out of the top ten last week as well as NickMercs who is often in and out of the charts. With Fortnite being the dominant title that these streamers play whilst live, it's no surprise to see the games chart how it is.
The games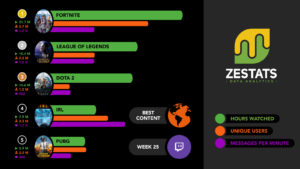 I'm beginning to think Fortnite may never be surpassed as the most streamed game. This week, it was streamed for nearly eight million hours more than League of Legends in second place. Those kinds of hours take a very long time to make up, and unless the Fortnite servers are immediately switched off it just seems incredibly unlikely. To move on from Fortnite, we see the usual games filling out the rest of the top five, with Dota 2 and PUBG committing to their usual rotational spots between third and fifth. However, with the EU qualifiers for the PUBG Global Invitational occurring this weekend, we expect to see it rise higher up the rankings in next week's charts and once again overtake Dota 2 and the IRL category. Make sure to check back next week to see whether PUBG has managed to get to the podium, or if Fortnite has somehow been knocked off its perch.