Adin Ross is a popular streamer on Twitch but has recently been in the limelight for all the wrong reasons. His most notable controversies over the past few weeks include a heated altercation with RiceGum and his alleged involvement in a cryptocurrency "pump and dump" scam. He was also banned from Twitch early last month for showing a sex scene with an NPC during his Grand Theft Auto roleplay.
During a broadcast on the 6th of July, Adin Ross was once again caught doing something contentious: texting whilst driving. Adin Ross is one of the most-watched streamers on Twitch, so it's hard to believe that someone with so much influence and impressionable viewers would do something this irresponsible.
Adin Ross caught texting whilst driving
It's hard to say what made Adin think that this would be a good idea, but it's clearly not the type of behaviour you want to promote to your audience.
Indeed, texting whilst driving is illegal and punishable by law, however, some Redditors speculate that Adin was driving on a private road and therefore the same rules may not apply. Regardless if that is true or not, texting whilst driving is not only irresponsible but also reckless, since it may encourage other vulnerable viewers to do the same. 
Some users pondered whether Adin could receive a ban from Twitch since the act could be construed as self-endangerment (and endangerment of others, given that he had passengers).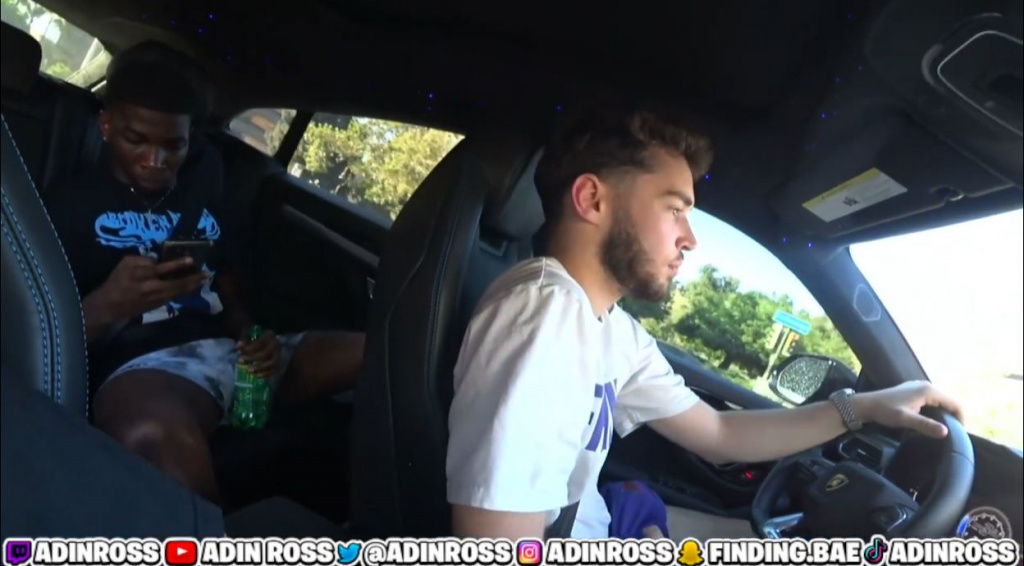 Previously, a Twitch streamer "JakeandBakelive" was banned for briefly looking at his phone to read chat messages, whilst cooling down his car.
Despite the unique condition of the incident occurring in a closed track and at a private event on private property, Twitch still hammered him with a ban lasting 7 days.
It happens I guess...

Was from today's track stream.

For reference: https://t.co/jdKGFxoRSlpic.twitter.com/zB5Wr6o6mU

— Jake'n'Bake @ LA 🇺🇸 (@jakenbakeLIVE) March 27, 2021
We can only guess whether Twitch will take action against Adin Ross as his incident is comparable to that of JakeandBakelive's. "Perhaps if he tactically spreads his a**hole before stream ends he can cap it at 3 days", one Redditor jokingly commented.
We would be surprised if Twitch didn't take action here, although Twitch has been criticized for unfair moderation in the past. This followed after Twitch issued a mere 3-day ban to Amouranth and Indiefoxx after their ASMR mic linking stints earlier last month.
At the end of the day, it would be negligent of Twitch not to take action as Adin Ross's irresponsible act could have ended in a fatal car accident. We are thankful that this didn't happen, of course, and endeavour to update you on any further development
Disclaimer: we are unable to provide additional context at the time of writing as the full stream was only available to subscribers. We can therefore only report details shown in the included footage. 
Don't forget to check out our dedicated Twitch section for news, streamer antics, drama, and more.
Header image via Twitch / Adin Ross.