The United States Presidential election is an event that's taken the attention of millions of people, not only in North America but across the world.
As citizens flock to the polls or mail in their votes, expectation is at an all-time high amid a global pandemic, and domestic turmoil that has seen protests and riots rock the US. The question on everyones mind is will Democratic candidate Joe Biden overtake President Donald Trump?
(Picture: Twitch)
Naturally, such an event has been a hot topic of conversation in a lot of different communities, including the gaming space, with a number of Twitch's biggest streamers having election night watch-a-long parties, with the majority of the 800,000 viewers in the Just Chatting category glued to one of the various broadcasts.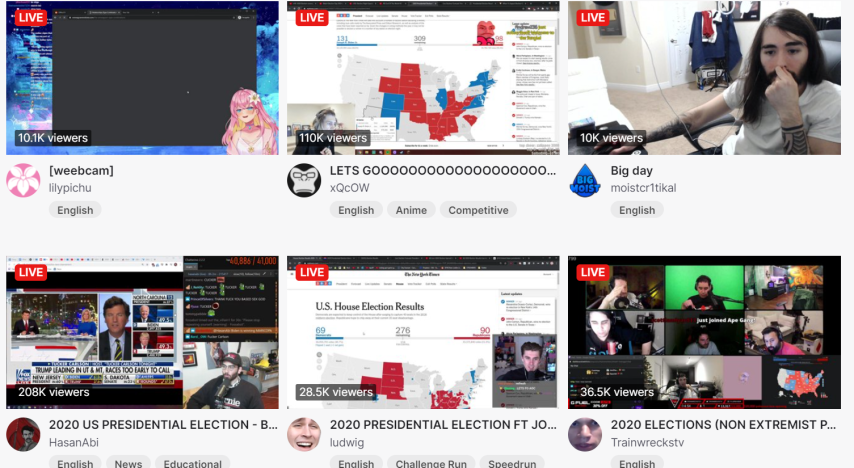 Half a million viewers were spread between various streamers following the US election. (Picture: Twitch)
Perhaps the most influential of them all is political commentator HasanAbi's stream. Reaching well over 210,000 concurrent viewers, Hasan has been at the helm of political discourse on the platform, actively inviting the community to be more politically alert, and was even invited to play Among Us with US Representative Alexandria Ocasio-Cortez on her Twitch debut.
He wasn't alone, as even Canadian sensation Félix "xQc" Lengyel tuned in to follow the Biden vs Trump race, doing so to 100,000 viewers. Ludwig, Mizkif, Destiny, the list goes on.
What makes watching on Twitch interesting? As a platform that, despite recent anti-user decisions regarding DMCA, is built upon community participation and engagement above all else, content creators function as a sort of modern news anchors for a younger generation, presenting information from different sources with versatility and speed traditional networks couldn't hope to replicate. 
As I sat down and watched Ludwig's Twitch stream, he pulled information from the NY Times interactive map, at times he cycled through the networks' YouTube broadcasts and compared the handling of information from numerous sources. It made for a more interesting experience than if I simply decided to tune in myself.
On top of the aforementioned, the ability for viewers to voice their opinions is a powerful, enticing tool that makes the watch-a-long election marathon that much more appealing. 
The platform's political relevance is growing and it is becoming a place where politics "happens" evidenced by the fact that both  Donald Trump and Joe Biden have a Twitch presence, and of course, AOC became one of the most followed accounts on the platform within days of creating her channel.
It would be premature to call 2020 a "Twitch election" in the same way soclal media proved so powerful in 2016, but the prospect of a future President being a Twitch streamer just took a step closer tonight.