When Félix "xQc" Lengyel decided to take part in the Super Team Showdown, a tournament organized by Twitch Rivals and part of Twitch's online-only GlitchCon, the last thing the former Overwatch pro would have expected was to be getting banned from the platform where he is undoubtedly one of its biggest stars - especially because the tournament in question was playing jumped-up party game Fall Guys.

xQc was banned after he stream sniped during a Fall Guys tournament. (Picture: xQc)
But that is what bizarrely what happened, xQc stream sniped, in full view of the tens of thousands of people watching his stream, and Twitch could do little else but to hand him a ban - seven days from the platform, six months from any Twitch Rival event, as well as having to forfeit his winnings.
Which is not such a harsh punishment, in fact, the biggest losers in all this is not xQc himself, but his army of 4m plus followers, who for seven days will not be able to tune in to see him take Among Us too seriously or watch him mess around in Minecraft, chatting away to his viewers in that uniquely xQc voice - equal parts French-Canadian, pro gamer, and Looney Tunes' Road Runner.
But perhaps those fans won't have to wait to long, because just hours after xQc's ban he made a surprise appearance on another stream.
"Le chat... I am back!" said... xQc? I mean the hair is right, and the voice is definitely his.
"It is a-okay!" says this xQc, "Here we go dude! I am back! Not banned! And are you ready? Because I am playing Minecraft!"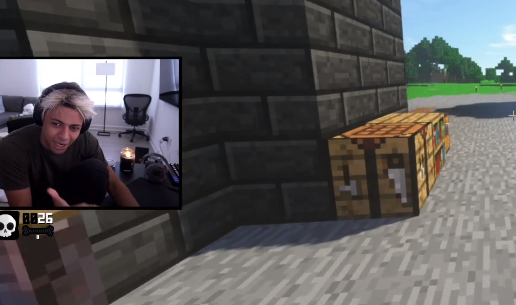 "xQc" made a surprise return to Twitch. (Picture: Myth)
Of course, this wasn't xQc but Ali "Myth" Kabbani, who after winding down his Fortnite career has made a name for himself as Twitch's answer to SNL, with the TSM star nailing many of the platform's top creators including Tfue, Summit1g and NICKMERCS.
But it is xQc that delights fans most, with Myth bringing him out while doing an impromptu cast of a Valorant match, or when sending up the former Overwatch star's approach to Among Us.
Myth kept the impression up for a good five or so minutes, so if you are missing xQc while he serves his ban, pop on over to Myth's stream because he might just make an appearance.
Where Myth saw an opportunity for a goof at the news of xQc's ban others have taken a different tack - League of Legends' streamer, Tyler "Tyler1" Steinkamp, didn't mince his words saying he hopes the former Overwatch pro "never comes back".