Felix "xQc" Lengyel is popular for his Grand Theft Auto roleplay (GTA RP) streams but his streams have seen a sharp decline in viewership lately. Some fans speculate that the RP meta has ruined the atmosphere of the stream as there is no communication with the chat. Others speculate that his content has become repetitive and boring, which xQc may actually agree with.
xQc to take a break from Twitch streaming
xQc last streamed on the 10th of July and revealed that he would need "a little more time" away from Twitch. On the 13th of July at 1:47 AM BST, he tweeted that "everything is in disarray" and that whilst "[he] can go live", he doesn't want to "until [he] can make 'good' streams again".
EVERYTHING IS IN DISARAY, I CAN GO LIVE BUT I DON'T WANT TO STREAM UNTIL I CAN MAKE "GOOD" STREAMS AGAIN. GONNA NEED A LITTLE MORE TIME. UNPREDICTABLES KEEP STACKING UP. SORRY

— xQc (@xQc) July 13, 2021
xQc previously tweeted on the 19th of June that the "stream's environment is very odd and negative" and sought to do more variety content (rather than GTA RP) for a "change of pace". xQc's streams have seen a sharp decline in average viewership, dropping from a peak average of 110,000 concurrent viewers in May to around 60,000 viewers this month.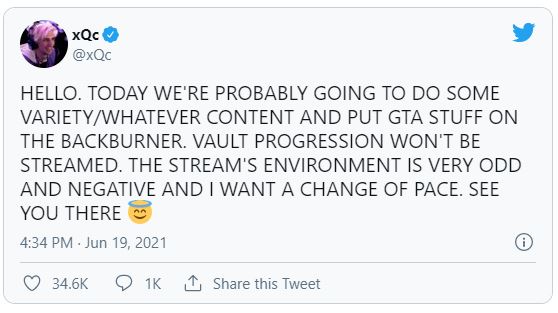 Despite xQc's GTA streams attracting hordes of people, some fans have speculated that the RP meta was fueled by drama and has simply lost its momentum.
One Redditor commented: "now that there is no big drama, his views go down", adding that they "just get bored of it and stopped watching Felix for the time being".
Another user indicated that xQc was not the only Twitch streamer to experience the drop in average viewers and alluded to the coronavirus pandemic as a reason for the decline.

"It's summer, the US is opening up from COVID, people started going out instead of being cooped up at home watching twitch", they said. This may be true considering that the U.S is by far the largest audience of xQc's streams.
It's unclear whether xQc is perhaps also dealing with personal matters since he hinted that "unpredictables keep stacking up". What is clear is that xQc certainly loves streaming to his fans and we expect he will return to Twitch sometime soon.
Whatever the reasoning is for his hiatus, we fully support it. To date, xQc has racked up nearly 15,000 hours streamed on Twitch and pretty much streams 24/7. A break would definitely do him good.
Don't forget to check out our dedicated Twitch section for news, streamer antics, drama, and more.
Header image via Twitch / xQc.