The former Fortnite pro and streamer, Zayn, is no stranger to controversy as he's been widely regarded as a polarizing figure in a community for quite some time. Back in 2019, he received what appeared to be a permanent Twitch ban for "evading a site-wide or channel suspension" and was recently unbanned by the streaming platform, as Zayn quickly jumped back into streaming. Less than 12 hours later, Zayn received another ban on Twitch...
Why was Zayn banned from Twitch?
No, the reason for Zayn's new ban on Twitch isn't that the former Fortnite pro wants to break Indiefoxx's speedrunning ban record, just in case you were wondering. 
Instead, according to Zayn, it was for calling someone a name which he didn't know was wrong...apparently.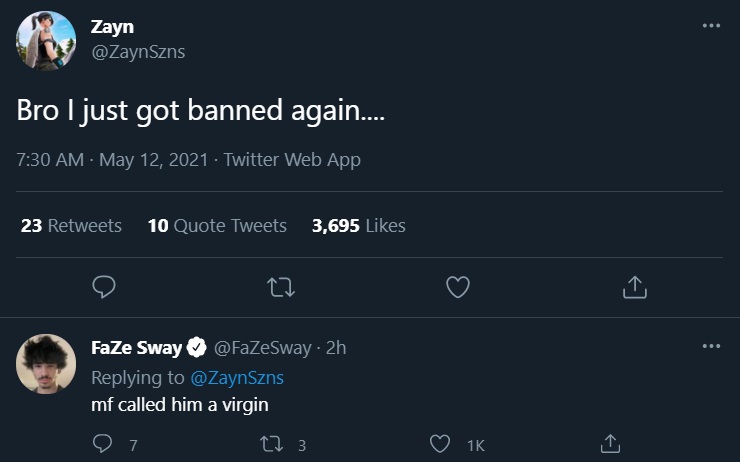 (Picture: Zayn via Twitter)
This new ban from Twitch for Zayn occurred on 12th May at roughly 07:00 GMT, and was due to him calling someone a "virgin" on stream.
In a follow-up tweet, Zayn explains: "Okay so calling someone a virgin is a no go. It's only a one day ban so I can't complain or be upset. I'll be live soon don't even trip."
Calling someone a "virgin" can be considered harassment, which is likely why Twitch banned Zayn. Thankfully for the former Fortnite pro, this ban will only last 24 hours, so we should see him back in action with his infamous 1v1 wagers on 13th May 2021.
It remains to be seen if Zayn can actually stay out of trouble. At the time of writing, Twitch has not given an exact reason for Zayn's ban, which isn't too unexpected at all.
However, some do think it is not because of the "virgin" comment but rather because of the 1v1 wagers he was doing on Twitch since it was part of the controversy surrounding Zayn back in 2019.
For everything Fortnite, check out our dedicated section filled with guides, news and more.