The DC Comics film The Batman debuted at the US box office on 4th March, attracting over $128 million in domestic revenue, making it a hit among fans and the fourth highest-grossing movie this year (so far).
The film explores a similarly dark, brooding theme to previous highly acclaimed films in the franchise. Only this time, the film is centred around Batman uncovering a string of cryptic clues left by an enigmatic sadistic killer, later revealed to be The Riddler.
Interestingly, The Batman movie seemingly failed to meet the expectations of YouTube megastar Ludwig Ahgren, whose questionable review of the film recently went viral on Twitter. However, moviegoers had none of it and slammed the star for what they branded as "the worst take" on the movie they've ever heard.
Critics slam Ludwig's terrible take on The Batman movie
During his 5th March live stream, Ludwig said, "The Batman movie was fine, dude. It was fine. I just thought it'd be more fun. I don't know. It was like a Marvel movie with none of the 'comedy', like I don't think I laughed or there was a single joke in the movie."
The streamer continued, saying that perhaps he didn't enjoy the movie as much because he's "just an old f*cking man." Later, Ludwig said that even though the film was meant to be a "brooding drama," he also thinks they did "a bad job at that."
Ludwig explained that "if you have what is supposed to be a great vigilante detective Batman and a guy whose name is The Riddler," then the movie should have been fun, like in a Sherlock Holmes or Knives Out kind of way.
Twitter user Batman101 subsequently clipped the moment and shared it online, with the caption, "This gotta be the worst The Batman take I've heard." Followingly, the clip garnered over 1 million views and attracted thousands of (not so friendly) comments.
this gotta be the worst The Batman take I've heard pic.twitter.com/YJ3RX7LYgJ

— Batman101 (@TheBatman010) March 6, 2022
Ludwig responds to fan criticism of his The Batman movie take
Ludwig later reacted to the Twitter post on 7th March, claiming that people only heard the first part of his opinion but doubled down, saying that "The Batman movie was mid; all superhero movies are mid."
The YouTuber went on to say that there have already been tons of Batman movies created, adding, "The Dark Knight is a GOAT-ed movie," but adding that the filmmakers just keep remaking them. "We should probably move on and come up with some new sh*t, but they just keep milking 'em," he said.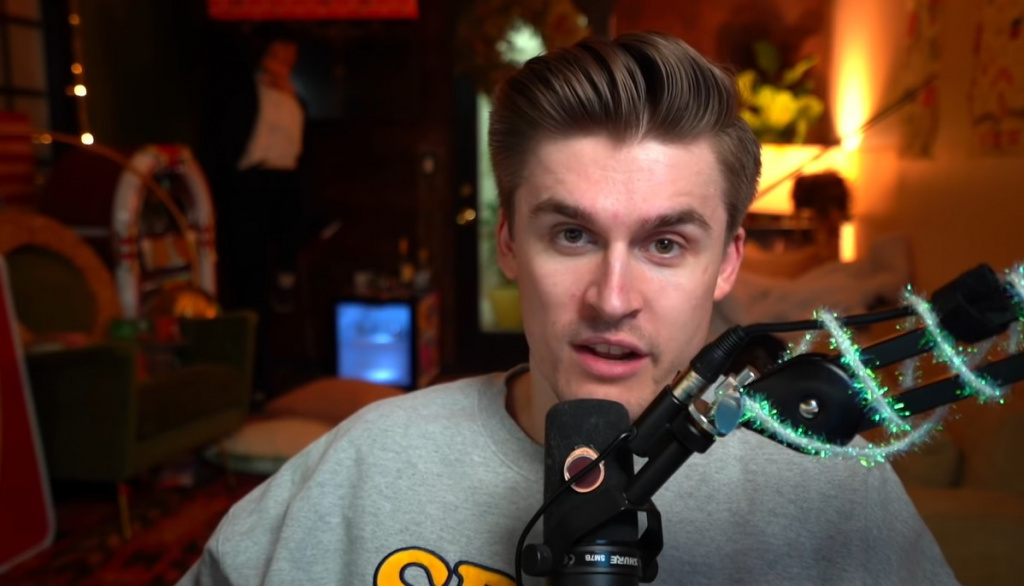 "The movie was fine. It was well-done, it's probably a top 5 Batman movie, and it's crazy that there are that many. But it's fine; it was just not amazing. I don't think that we've ever had a superhero movie that was groundbreaking," Ludwig added before branding Marvel and DC fans "savages."
Indeed, it was an interesting choice of words because the same could be said about their savage comments. One YouTube user wrote, "So sad to hear Ludwig has COVID! Wonder if he'll ever get his taste back", while another said, "Honestly, straight to jail with Ludwig."
Followingly, I can't help but think that Ludwig's attempt to justify his review was just akin to digging an even deeper ditch; however, at least his fans were forgiving. "It's okay, Lud, everyone has bad takes like this sometimes!" said a fan on YouTube.
"I respect your right to have a take. A wrong one, but you're right nonetheless," said a second. "It's okay, Lud. We accept your apology. We are all friends around here," echoed a third.
If you enjoyed this story, then you'll love the rest of our entertainment news coverage, which includes news and updates about your favourite Twitch and YouTube streamers. Check out our dedicated Entertainment section for more.
Featured image courtesy of YouTube / Ludwig and Warner Bros. Pictures.