On 16th October, a
Twitch controversy exploded
after Twitch star Destiny reported how Alisha12287 got banned after an alleged kitten mill's lawyers contacted Twitch to get her banned for harassment. Alisha12287 reportedly exposed the alleged kitten mill for several issues, including ringworm, flea infestation, and even a kitten dying in her arms, as well as bad breeding habits which cause genetic disorders. Now, Alisha12287 has made an official statement on the matter of her Twitch ban.
Alisha12287 Twitch ban statement
At one point, the kitten mill in question, which will remain nameless for now, started posting on Reddit but the thread has since been deleted. There's also a Twitch channel for the alleged kitten mill. Some people also started posting the address of the person in charge, and there's a whole lot of stories about this alleged mill, surrounding sick and dying kittens.
In a statement about her Twitch ban, as well as what happened on Reddit and the alleged kitten mill, Alisha12287 read from a paper, as she noted she had to be careful about what she said.
First up, Twitch has not provided Alisha12287 with a reason for her ban but did note it was for 14 days, and it was due to "harassment".
However, Alisha12287 was emailed by a "specific business" who boasted they were the reason for her ban on Twitch, as Alisha 12287 explains "they stated to me that they used an attorney to contact Twitch to essentially...shut me up."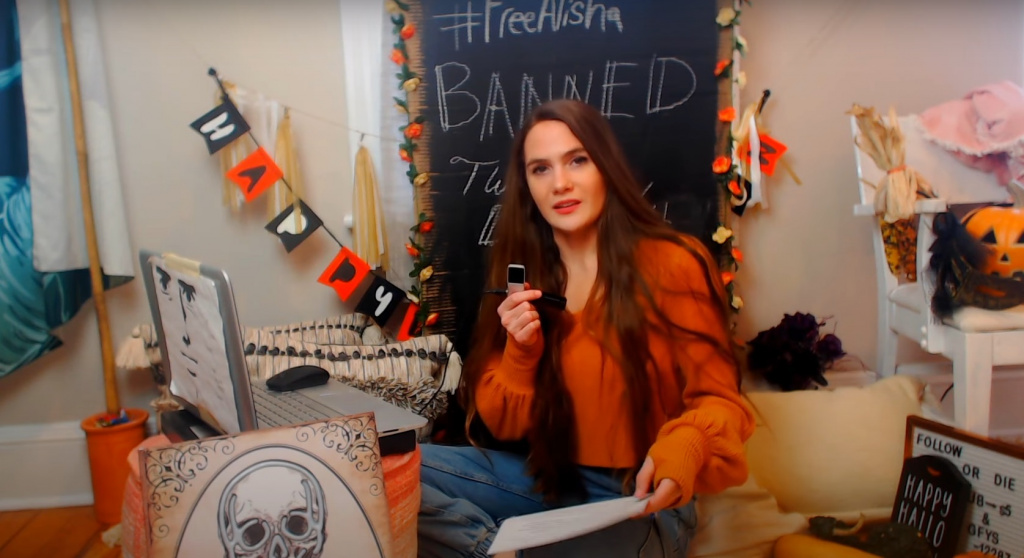 (Picture: Alisha12287)
On Twitch's decision, Alisha12287 reads from her statement that: "I understand Twitch's quick decision from a business perspective to ban me for 14 days, and I also understood at the time I decided to speak up about something I felt so compassionate about that there could possibly be backlash against me."
She continued by saying this didn't stop her from speaking up. According to Alisha12287, she spoke to Destiny on Friday, 16th October as they are friends. However, she did not know he would share a clip of what she said on his channel and Reddit.
The Reddit thread in question currently sits at a massive 57.1k upvotes. Much of the information within, such as "falsified documents" for the kittens, and reports about kittens dying days after being adopted from the alleged kitten mill, is a matter of public record according to Alisha12287's statement.
Alisha12287 thanked her fans and those who've helped her on Discord. She also explained how she is supposed to be unbanned on October 23rd, and she is currently researching to do a charity stream for an animal shelter.
During the statement video, Alisha12287 shows her frustration by heavily sighing and explains how it is honestly not what she wanted. She has been suffering from a lot of stress as well as anxiety but she felt obligated to do something.
She hopes the right thing gets done, and hopes everyone can understand where she is coming from.