Streaming sensation Ludwig is currently going through his 6th day of non-stop streaming.
Ludwig's subathon started on Sunday, March 14, and Ludwig thought that it will last two days maximum, but it ended up being much longer and it seems that the end is nowhere near.
Given that the rule of the challenge is that the subathon's timer will be prolonged for 10 seconds whenever someone subscribes to his channel, this has led to an army of new subscribers who wanted to participate in an idea to endlessly prolong his live stream session.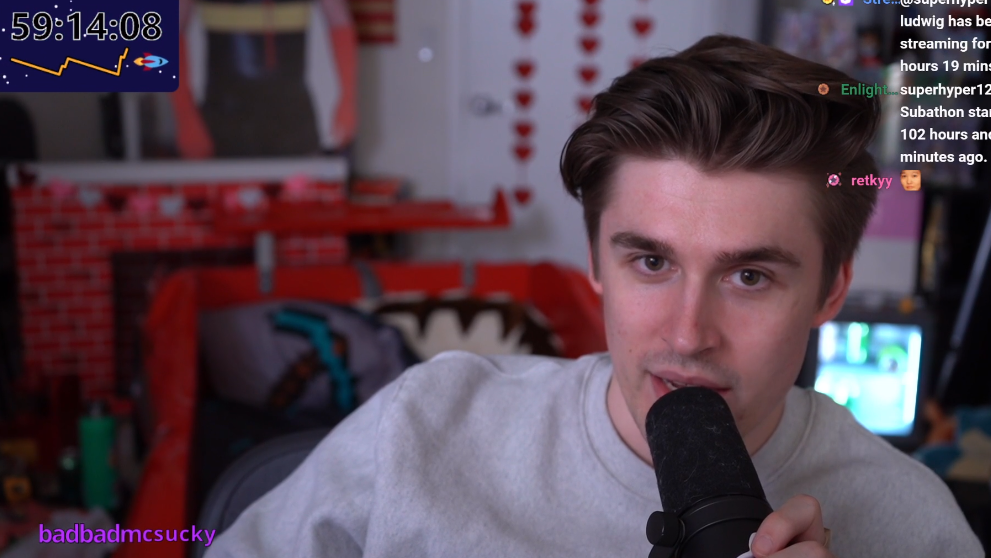 Ludwig is about to become the most subbed streamer on Twitch (Picture: Ludwig)
At the time of writing, Ludwig has amassed over 81,000 subs, with currently over 69 hours left on the timer, which is still constantly going up, as new people subscribe.
Many have been criticising him and people who are giving him money with subs and donations, essentially calling this "making the rich richer" type of situation.
During one of his recent Q&A sessions, Ludwig has been answering questions from his viewers, which covered many topics in regards to this subathon and some controversy surrounding it.
Why did Ludwig start subathon?
Amongst those who criticize Ludwig's subathon, many think that he is simply way too big and too rich to do these kinds of things, but Ludwig explained the reason why he decided to do it.
Someone in his chat said that streamers who "make 20k a month shouldn't do a subathon", on which he explained why he started it.
It doesn't feel like there is a very obvious pattern that streamers should follow," Ludwig said. "I think if I don't go live for eleven days, and I'm gonna feel sad because my subs count is lower because I've tied some of my value to a number on a screen, that I wanna do a subathon to counteract that, it's pretty normal."
He explains that he perfectly understands people who are angry and he thinks that financial inequality is one of the biggest problems in the world, and urges his fans to be responsible and to think first about their wellbeing and needs before donating money to anyone online.
How long will Ludwig's subathon last?

Ludwig says he even planned a trip before this all started (Picture: Ludwig)
While Ludwig did want to bring back his subs count, he explains that he didn't expect this to explode and become this huge. He hoped it to last two days at best, but it will now be 8 days at a minimum.
He said that he could have ended it at any point and call it a day, but he thinks that would be a scam because people are subscribing to him in order for the endless stream to last longer.
He said that he even had a trip planned, but he is not sure if he will cancel it or not, as he believes subathon "will probably gonna go into the trip".
As things stand now, this will simply last until people stop subscribing, probably until the end of the month.
How much money Ludwig earned from subathon and what he'll do with it?

Around 60k people are watching Ludwig sleeping and relaxing (Picture: Ludwig)
While we don't know the exact numbers, we may safely assume that subathon earned Ludwig an insane amount of money.
Currently, over $250,000 from subs alone, not counting donations, ad revenue, and all sponsorship deals he was doing through this period. Of course, part of that money goes to Twitch as well, and he needs to pay taxes.
Ludwig said that if he would do this for a full year, it would earn him around $13,000,000 USD before he pays taxes.
Still, Ludwig has confirmed that he will not keep all the money for himself. In fact, he stated that half of the money he earned during the subathon will be donated to charity, but he is yet to decide to which organisations he will donate.
In addition, he states he will give extra pay to his mods, which were basically doing 8-hours shifts through this period, as his stream has been online non-stop for the last six days.
If you want to know more about Ludwig, check out this article where we explain his beginnings and how he rose to fame.