Natalia "Alinity" Mogollon has had her share of controversies, ranging from several incidents of inappropriate exposures (including her "accidental" nip slip incident) to her infamous cat throwing scandal.
More recently, however, she appears to have turned over a new leaf and has rather spoken out about the various contentious issues on Twitch. This follows her call for "consistency and fair treatment" by Twitch with regards to repeat offenders after Indiefoxx received her 6th ban from the streaming platform this year.
Mizkif tests if Alinity truly turned over a new leaf
In a recent stream, Matthew "Mizkif" Rinaudo sought to test whether Alinity has indeed turned over a new leaf by trolling her infamous cat throwing incident. For those who don't know, Alinity received massive public backlash in July 2019 after she was accused of animal abuse when she tossed her cat blindly over her shoulder during one of her streams.
Mizkif proceeded to seize the moment when the streamer duo began speaking about how to discipline cats. "Alinity, how do you 'yeet' a cat", he said jokingly before Alinity then went on to demonstrate.
Of course, Alinity did not actually throw her cat during her demonstration, citing that she was "scared [the cat] might fall" when (jokingly) asked to do so. It would therefore appear that Alinity was not compelled by Mizkif's mischievous tricks and has seemingly learned from her past mistakes.
Mizkif quickly leapt from his chair with applause, saying: "You've learned your lesson. You've learned your lesson after all these years, Alinity! Congratulations, you've passed the test!".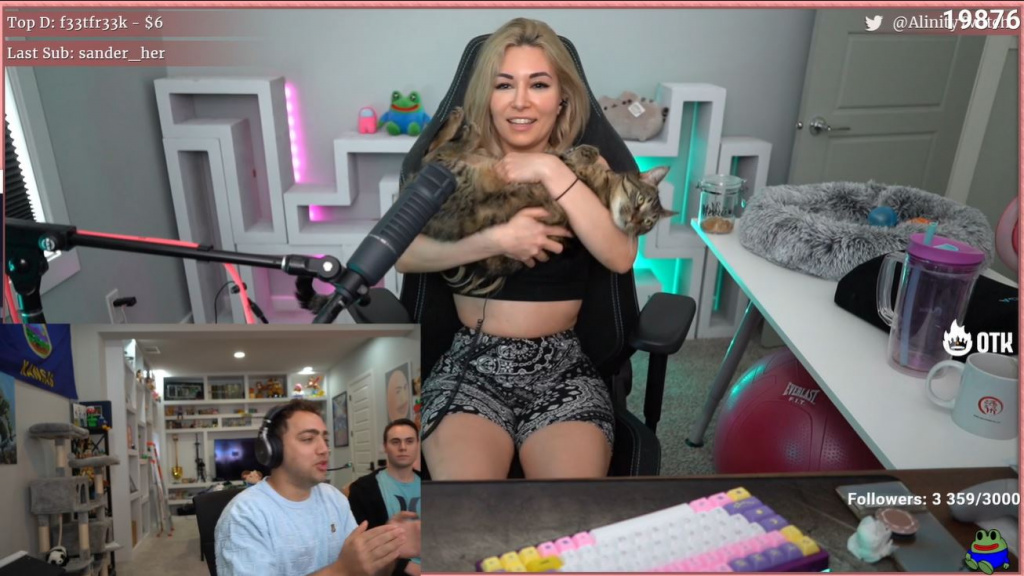 We're certainly glad that she didn't swing back to her old ways as this year has been somewhat redeeming for the Twitch star. It's clear that Alinity has made peace with her past transgressions and we hope that she will continue down this newfound "path of righteousness".
Don't forget to check out our dedicated Twitch section for news, streamer antics, drama, and more.
Header image via Twitch / Mizkif