It's been a wild 2021 for Twitch streamer Kiaraakitty, who has received a total of three bans so far this year. As an IRL (In real life) streamer, Kiaraakitty streams many of her daily activities in Singapore, including jumping into a hot tub for some streaming antics...While she got unbanned quickly back in March 2021 following a wardrobe malfunction from one of her friends in a hot tub, her most recent ban lasted more than a month.
Kiaraakitty returns to Twitch
Kiaraakitty is yet to stream again following her latest ban which took place on 22nd April 2021. The ban lasted for 1 month, 3 days and 16 hours.
Despite speculations of why Kiaraakitty was banned for such a long time, for example, lude/sexualized dancing on Twitch, the exact reason remains a mystery.
Been a month since I been on twitch and 1st thing I saw was .. pic.twitter.com/znnMCHkcdM

— KIARA (@kiaraakitty) May 26, 2021
The good news for fans of the popular IRL Twitch streamer is that Kiaraakitty has been unbanned.
Only hours after she said "still banned..." on Twitter, her ban was lifted to the joy of her fans.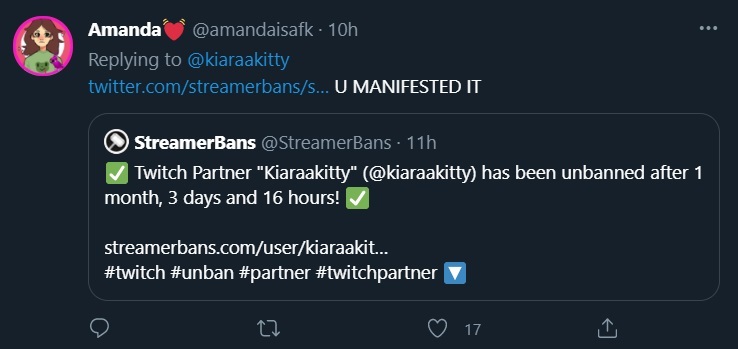 (Picture: Twitter)
Kiaraakitty has well over 200,000 followers on Twitch. However, she also has three bans to her name. 
While the first two bans only lasted 24 hours, the last mysterious ban lasted for over one month.
It remains to be seen when exactly Kiaraakitty will get up to her IRL streaming antics, as she has not, at the time of writing, announced a return date. 
Check out our dedicated section for more Twitch news, from the antics streamers get up to, to the hot tub meta and more.