The internet is home to thousands of scammers, lurking, waiting to prey upon those unaware of their existence as they attempt to make some quick cash at the expense of others. Luckily there is a hero amongst us and his name is "Kitboga" a popular Twitch streamer who baits scammers with the lure of untold riches, but of course, there is no money to be stolen, instead viewers tune into and watch as scammers get given the runaround - often to hilarious effect.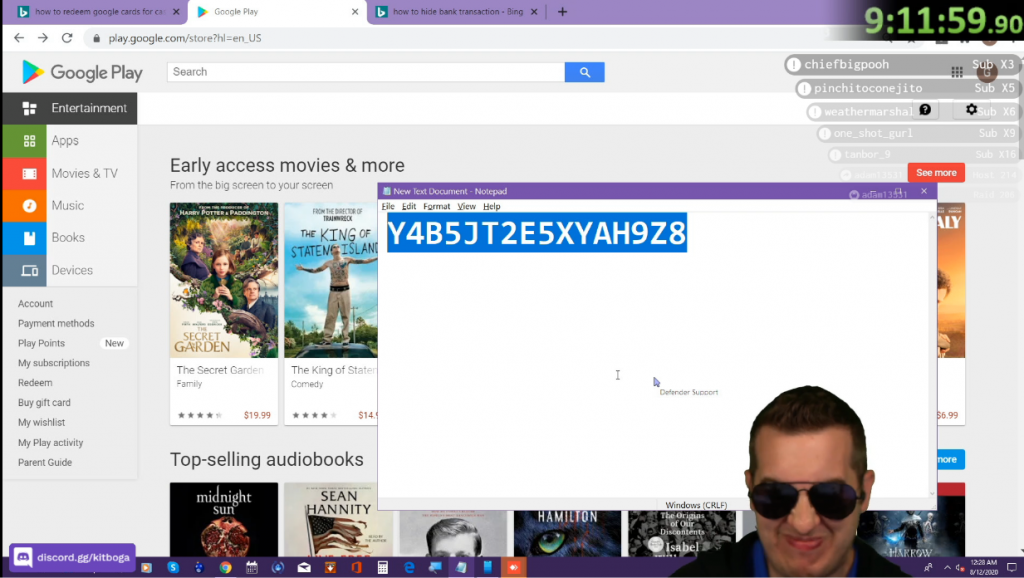 (Photo: Twitch.tv/Kitboga)
For those out the loop, the streamer, who has decided to maintain his real name private to protect his identity, has become famous for giving these scammers a taste of their own medicine, by posing as a victim, deliberately wasting their time to amusing results, allowing him to amass a big following on both Twitch and his YouTube channel, which boasts over 1 million subscribers.
In his 10th August broadcast, Kitboga truly broke the spirit of one of these scammers, as his antics led to a rage-induced rant that went viral on social media, garnering over 100,000 views and counting.
As Kitboga redeemed a $500 Google Play gift card, the scammer lost his mind at the sight of it. "Why did you did this!? Why did you did this!? Are you mad!?"
Here's the catch, the gift card and site were completely fabricated by Kitboga himself. The streamer tried to give the scammer a fake code, which naturally wouldn't work on the real site, leading to hours upon hours of discussion.
Scammers like the one Kitboga's dealing with, threaten people with made-up fines and phoney government warnings to scare people into sending them money. In this case, the scammer threatened Kitboga with taking money from his bank account.
The scammer thought he had trapped yet another innocent victim in his scheme, making Kitboga, who was pretending to be an old lady, to go buy thousands of dollars worth of Google Play credit. Unfortunately for the scammer, it was really Kitboga who was pulling the strings.
That was far from the only highlight-worthy clip, as Steve (the scammer) meltdown started before Kitboga even pretended to redeem the fake card. Painfully looking at what he thought, was a fortune slipping away.
"Hey you b*tch! Listen to me! Do not redeem card!" Steve yelled as Kitboga threatened him with taking $100 away from him for cursing. "Do not redeem the card!" Steve continued spouting as the streamer, impersonating a clueless older woman, replied that "yes, I'm redeeming the card."
"No, no, no, no, no, no!" the scammer yelled back.
Steve tried to explain to the "old lady" that she was "redeeming it for your own. I won't get it, I won't get it!"
Still immersed in his role, Kitboga's "what do you mean?" A question made the scammer explode. "What are you doing!? Are you a prostitute!? No, b*bitch no! No! Do not redeem!" he yelled back.
The story ends with Steve the scammer giving up after clocking over 10 hours attempting to steal some fake old woman's fake money. 
What is it about justice that tastes so sweet?