Twitch streamer Hitoshi "SmashGodxXx" Uechi has been accused of physically abusing his girlfriend during his most recent live stream session.
These accusations are based on the several clips taken from the now-deleted VODs, where the beating itself can not be seen, but the whole scene that preceded the incident heavily implies that the physical attack occurred, along with screams and sounds of slapping and slamming which can be heard in the background.
The first incriminating clip shows SmashGodxXx and his girlfriend sitting in his room and streaming, but SmashGodxXx suddenly requests his girlfriend to leave the room and opens the door for her, but she ignores his demands.
"Just get out, I'll open the door for you," SmashGodxXx politely said to her, but things quickly became ugly as she refused to leave the room.
They started arguing, with SmashGodxXx insulting her and demanding to bring him alcohol: "Bring me my beer, my beer is right there in the living room actually."
This prompted his girlfriend to burst and hit him with a bag of food at which point he stands up, turns the streaming camera away, and opens the second door. Some moving and fuss can be heard, and a really strong slapping sound just before the clip ends.
Another incriminating clip comes from his sister's stream. While she is showing her room, muffled shouting, slamming, and screaming can be heard coming from Hitoshi's room, which his sister describes as "just them jumping around", but when the screaming intensifies, she abruptly ends her stream. 
Later during the stream, SmashGodxXx denied all allegations and blamed his girlfriend for the whole incident: "If she wants to act up for content, or whatever it may be, and she wants to cost my life for this, and my job, that's on her. Honestly, I try my best."
Although SmashGodxXx deleted the VOD, as well as his sister her VOD, important moments were saved and uploaded via Streamable, including the 16-minute clipping which shows SmashGodxXx talking about the incident while she is sitting next to him.
He claims that the assault wasn't serious, that "it wasn't even a slap, it was just literally like a slash."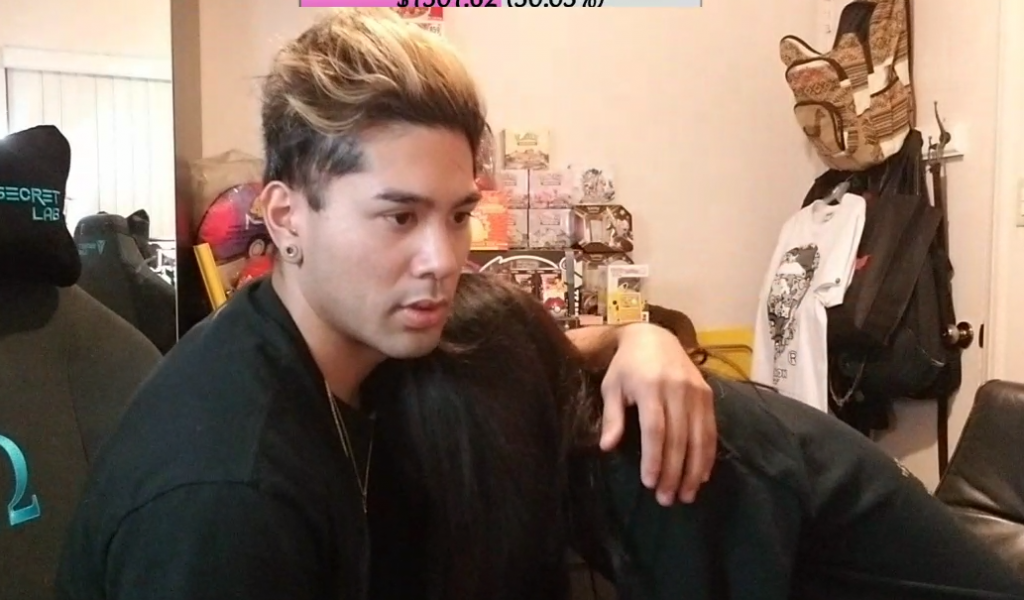 SmashGodxXx was trying to show how everything is fine, but his girlfriend was constantly crying and looked really uncomfortable being there (Picture: SmashGodxXx)
During the post-incident stream, he tried to hug her several times, but his girlfriend looked visibly stressed and not really in the mood to hug him back. She looked very uncomfortable being there and was trying to ignore him and the stream by looking down at her phone. She was also crying most of the time.
At one point (10:45 in the 16-minute video), while trying to hug her, he can be heard whispering to her "Give me a hug, cuz its the only thing that will fix this, give me a hug, its the only thing that will fix this."
With around 11,000 followers, SmashGodxXx is a relatively small streamer, but notorious for his outrageous behaviour. His YouTube account has been permanently banned, and he was banned four times on Twitch, but never permanently.
This is far from his first incident which drew the attention of a broader audience. Back in 2019, he ended up on the Judge Judy show for streaming his Tinder date on Twitch, without permission. This got him banned from YouTube for posting VODs of those dates, but for some reason Twitch never permabanned him.
Given how serious the latest accusations are and everything we've seen in these clips, Twitch should assess the whole situation very carefully and take appropriate measures.