Allegations of sexual misconduct and grooming of underaged fans appear to pop up multiple times a month now. The latest accusations have been lodged against Daniel Avidan of Game Grumps and Ninja Sex Party. These allegations suggest Dan Avidan groomed a young fan and years later when she was above legal age, they engaged in sexual activities.
Dan Avidan Avidan grooming accusations
The latest accusation of grooming against the 42-year-old Dan Avidan comes from a Reddit post created by user NotBlarg in the RantGrumps subreddit. Since the post went live on 21st March 2021, it has received over 5,000 upvotes.
The post features a story of an alleged grooming victim. NotBlarg explains: "For over a year now there have been accusations about Dan Avidan sexting, sleeping, and ghosting younger fans, among other things. Several girls have come forward publicly, while others have contacted me or others privately.
"A few days ago, another girl, who wishes to remain anonymous for obvious reasons, contacted me saying that she wanted to come forward, sharing both her story and some physical evidence."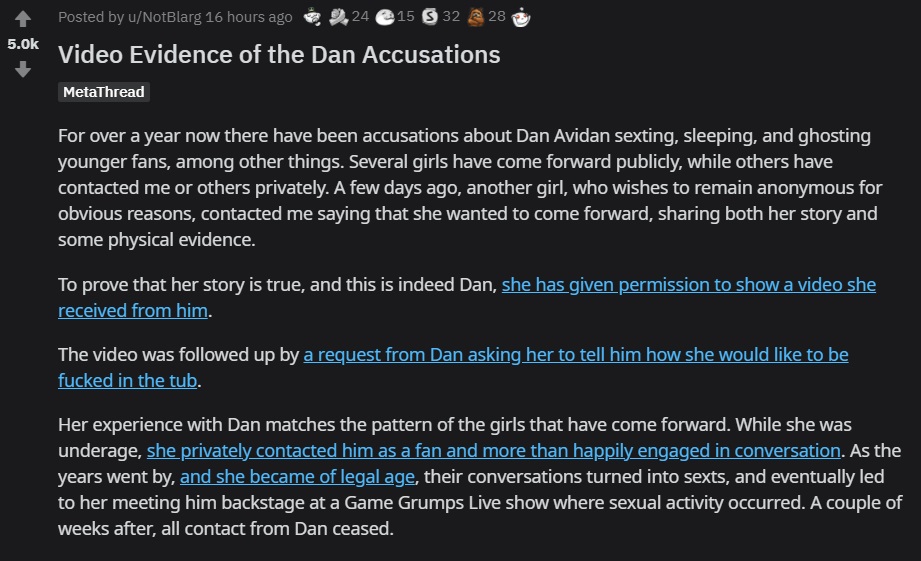 (Picture: Reddit)
If you are wondering what other accusations the post is referring too, there are against Dan Avidan, there's a Tumblr page called "A Year of Dan" which contains dozens of accusations from several women...
The Reddit thread contains links to videos, as well as conversations between Dan Avidan and the young fan. The person in question claimed she began talking to Dan Avidan via text messages while she was still underage. Once she was of legal age, the conversations reportedly turned sexual.
It appears when the sexual acts occurred, the victim was roughly 22 years of age, as the first conversation happened in 2013, while things escalated with a video shared by the alleged victim sent by Daniel Avidan about a jacuzzi tub and clear sexual intentions at the time. It is important to note this video is from 4 years later, in 2017.
Back in 2019, Dan Avidan's former personal assistant and friend, Kati Schwartz released a video featuring a play entitled "Bad People" which you can view above.
Kati Schwartz has now confirmed the play is about Dan, and called him a "predator" in a recent Instagram post.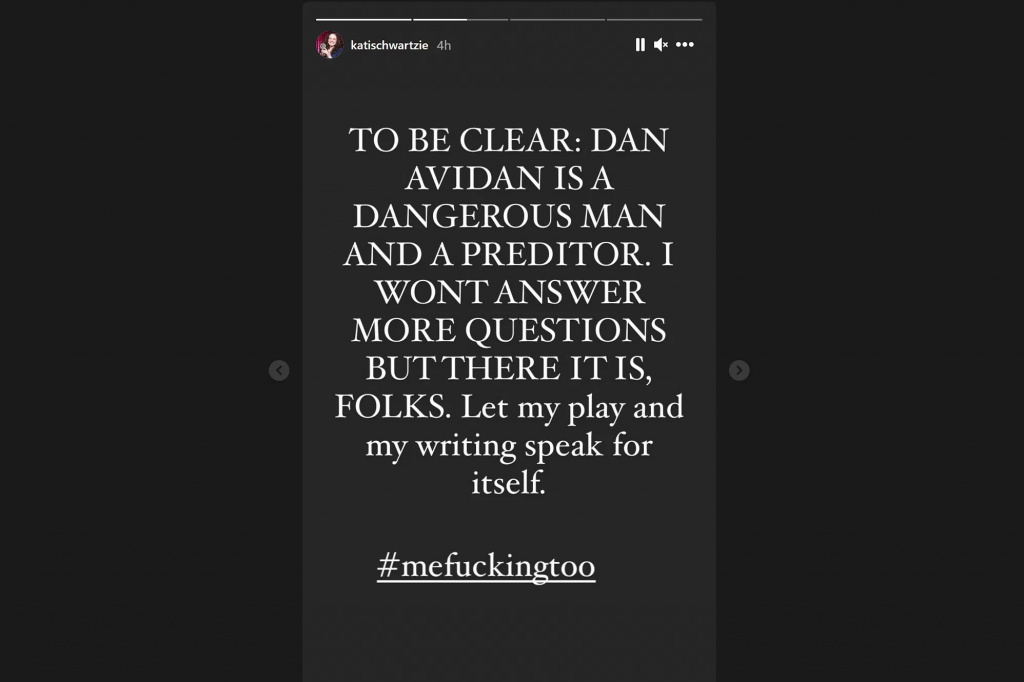 (Picture: Kati Schwartz)
At the time of writing, neither Game Grumps nor Dan Avidan has made an official response to these allegations of grooming. 
Keep in mind that these are allegations, and fans are coming out of the woodwork on social media, some defending Dan, and others showing support for the alleged victims.
This is a developing story and we will keep you updated once (or if) Dan Avidan does make an official, public response.