Popular Minecraft YouTuber, Dream is no stranger to controversy. He previously gained notoriety following his admission to cheating in his Minecraft speed runs. He was also called out as being a homophobe following his absence from streaming, despite promising to donate streaming proceeds to an LGBTQAI+ charity. 
Dream has since made amends after he recently donated $140,000 (as promised) to The Trevor Project, which is an initiative dedicated to providing crisis and self-harm support to vulnerable LGBTQAI+ youth. More recently, however, a video surfaced by Karl Jobst, "uncovering the truth" behind Dream's infamous Minecraft cheating scandal.
Dream responds to "uncovering the truth" video
In Dream's confession of his 1.16 speed runs, he admitted that he did have cheats enabled during his Minecraft speed runs. He also indicated, however, that it was an accident that had resulted in him receiving higher than usual drop rates. This would later be contested in a video posted on the 1st of July 2021 by Karl Jobst, entitled "Dream's Cheating Confession: Uncovering The Truth".
The video is well researched and includes a detailed explanation of events related to Dream's cheating saga. The video also dissects the timeline of events and provides evidence to support several claims. Karl also clarifies certain misconceptions and irregularities, including Dream's defence of his oddly high drop rate.
The video is quite lengthy, so we've linked it for your viewing convenience below.
Despite the video being anything but exonerating, Dream responded amicably, citing that it was "very well made" and that he has "lots of respect for [him]". Dream also added that the "whole situation was definitely a huge learning and reflecting experience for [him]" and called Karl's work "excellent journalism".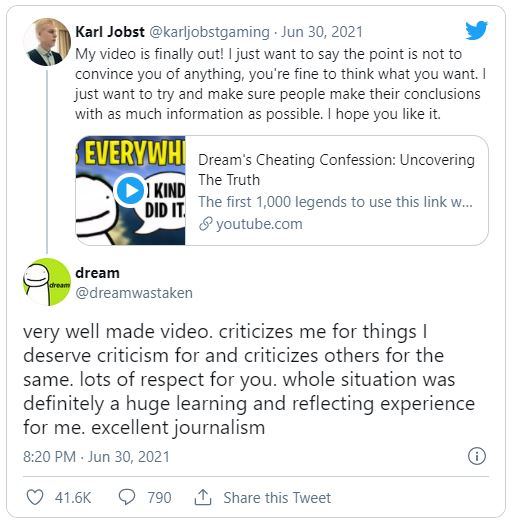 Karl indicated in the video's comments section that the clips in the video were left uncredited to "avoid any potential backlash or drama, which [he] disapproves of". He further added that he agreed with some of the clips but included clips that "[he] thought were really relevant to the video". He then ended off saying that he was "looking forward to moving on and putting the entire saga to rest".
It's clear that both parties are pleased to put this all behind them and move on with their lives.
Don't forget to check out our dedicated YouTube section for news, streamer antics, drama, and more.
Header image via YouTube / Dream