Natalia "Alinity" Mogollon is a popular Twitch star who is no stranger to her own controversies. This follows several incidents of violating Twitch Terms of Service (TOS), including an accidental "nip slip" on stream. It is therefore ironic that she, of all people, would take a stand and call on Twitch to take action against repeat offenders, like fellow OnlyFans model and Twitch streamer, Jenelle "Indiefoxx" Dagres.
After serving just a 3-day ban from Twitch with Kaitlyn "Amouranth" Siragusa for their ASMR mic licking stints, Indiefoxx received yet another ban a week later, totalling 6 bans from the streaming platform this year. This has seemingly prompted Alinity to speak out about the alleged "unfair treatment" by Twitch regarding their moderation.
Alinity speaks out about "unfair treatment" by Twitch
Alinity took to Twitter, venting by saying: "so is Twitch gonna start doing something about repeat offenders? Or is it fair game for everyone to start stretching the TOS as thin as they can?". She later commented that she has benefitted by "this blurred line" before, but previously thought (and still does think) that it was "messed up".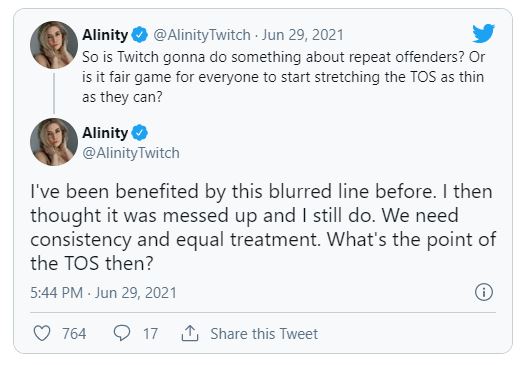 It's welcoming to hear that even Alinity agrees that Twitch should have consistency and equal treatment in implementing their moderation policies. Indeed, we agree that there is no point in having a TOS if it's not implemented fairly.
As we previously mentioned, Indiefoxx has received a total of 6 bans this year alone. Since she has not lost her Twitch partner status, we can expect that her suspension will be lifted in the (probably not too distant) future. To top it off, Indiefoxx has not endured a suspension lasting longer than 3 days, which compared to the 3-month long accidental ban of Jon Zherka's channel seems absolutely unfair and completely absurd.
Alinity defends her stance for equal treatment
Alinity has previously denied accusations of favouritism by Twitch, calling it "totally ridiculous" but maintains her stance for equal treatment despite this. This was evident in her response to a user who tweeted: "everyone would be f***ed but I'm sure [you'll] be fine". The tweet suggested that she benefited from the relaxed moderation of sexual content. In her response, she said that it was "not the f***ing point" and that despite it benefiting her, she wants "fair treatment for everyone". 
That's not the fucking point. Despite if it benefits me or not, I want fair treatment for everyone.

— Alinity (@AlinityTwitch) June 29, 2021
Alinity has previously called for stricter moderation and longer bans for sexually provocative content on Twitch, tweeting earlier this month that Twitch needs to "decide whether or not they want the content on Twitch and be FIRM against it".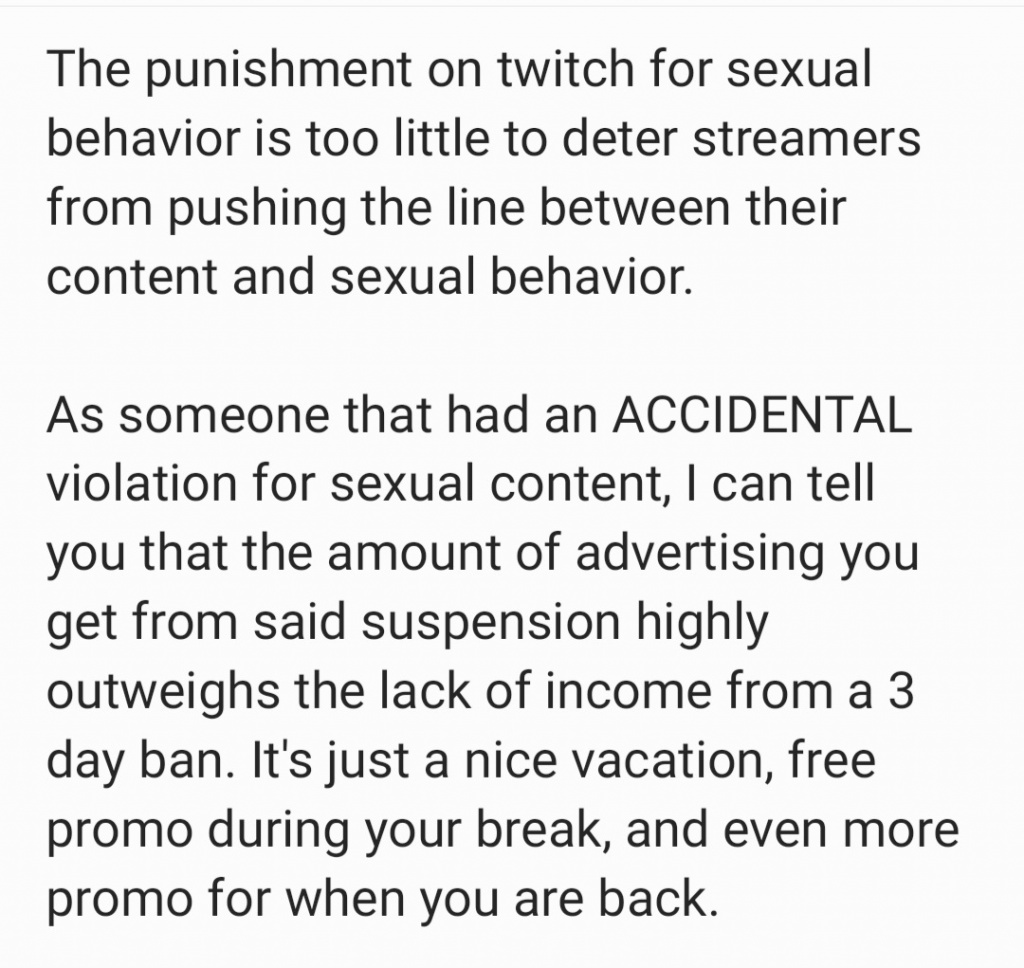 This sentiment was resonated by Twitch star, Felix "xQc" Lengyel, who slammed Twitch's decision not to permanently ban Amouranth and Indiefoxx after their repeat offences, citing that it made "no f***ing sense".
Indiefoxx has yet to comment on the reason for her ban, but based on her prior five infractions, it shan't be too long. Twitch has also not made any public statement on the matter despite the mounting outcry by both streamers and members of the Twitch community. 
We'll have to wait to see whether statements like Alinity's will fall on deaf ears, or whether Twitch will actually do something about it.
Don't forget to check out our dedicated Twitch section for news, streamer antics, drama, and more.
Header image via Twitch / Alinity