Twitch streamer Natalia "Alinity"  Mogollon can't keep herself out of trouble. After going viral for mistreating her cat live on stream, she's now the focus of another controversy after accidentally flashing her boobs.
UPDATE: Alinity responds to her haters, nip-slip wasn't planned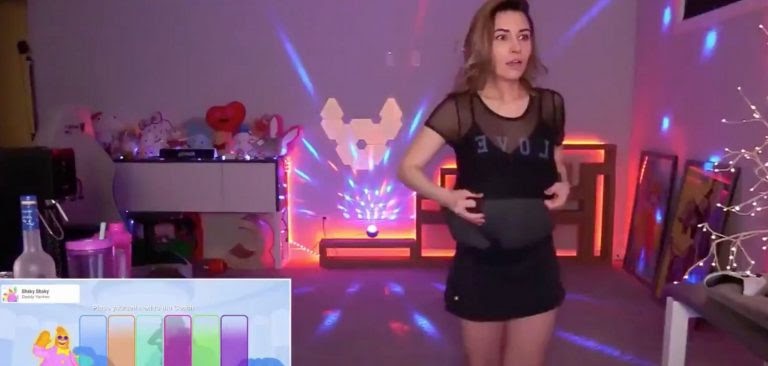 (Credit: Alinity)
The wardrobe malfunction happened during her April 24th broadcast and lasted only a fraction of a second.
Despite this accident breaking Twitch's newly implemented nudity and attire policy, which deems situations like Alinity's a bannable offence, no such punishment has been handed down.
Alinity took to her Twitter to announce that she won't be streaming for the next three days, serving as a self-inflicted ban following the platform's lack of reaction to the whole deal.
Hey so regardless of whatever Twitch decides to do, I'm gonna give myself a 3 day suspension from the platform. I think it is fair. Have yourselves a nice day!

— Alinity (@AlinityTwitch) April 25, 2020

The fact that no ban has come from Twitch has rubbed some members of the streaming community the wrong way.
Hey @Twitch, I once got hosted for 4k viewers, did a minor booty shake & got suspended within 45m for 7 days for Sexual Activity.

Alinity showed her tits, has been up for 3 hours.

— RBK Arab (@YourFellowArab) April 25, 2020
Some others just outright mocked the privilege Alinity's stream seems to have.
With hundreds of complaints filling her social media, the 32-year-old fired back claiming that they should direct the hate towards Twitch themselves, as she's got no say in how suspensions get handed out.
You guys know I have been suspended before, right? So many people saying I don't get in trouble and shit. I just didn't make a big fuzz when I got suspended, cause WHO CARES? https://t.co/iGlwuDz2GF

— Alinity (@AlinityTwitch) April 25, 2020
Many have speculated that Alinity is in a romantic relationship with an employee at Twitch, as one of the reasons why her stream seems to have special privileges. She denied this once again while answering several other criticisms.
Yo, if you guys don't like how Twitch handles bans take it with them. How are their inconsistencies my fault?

— Alinity (@AlinityTwitch) April 25, 2020
Twitch has yet to comment.

UPDATE: Alinity is now suspended from Twitch after nipple slip incident on stream - more on that story here.
Mom Tells Twitch Streamer To Put Clothes On & Toto Africa In Animal Crossing