The US representative Alexandria Ocasio-Cortez (AOC) had another successful Among Us streaming session on Twitch this Friday.
While not exactly record-breaking like her first-ever stream in October, which peaked at 430k viewers, her stream on 27th November peaked at 104k viewers, which is still well above average Twitch stats, and it was by far the most viewed stream on Friday evening.
She was playing Among Us together with Jagmeet Singh, leader of the NDP in Canada, and HasanAbi, a popular Twitch streamer and political commentator.
They were joined by other streamers, including Disguised Toast, Myth, Jacksepticeye, and many others. Even Félix "xQc" Lengyel, a controversial Twitch star who not long returned to the platform after a ban, was in the Among Us lobby for a couple of games.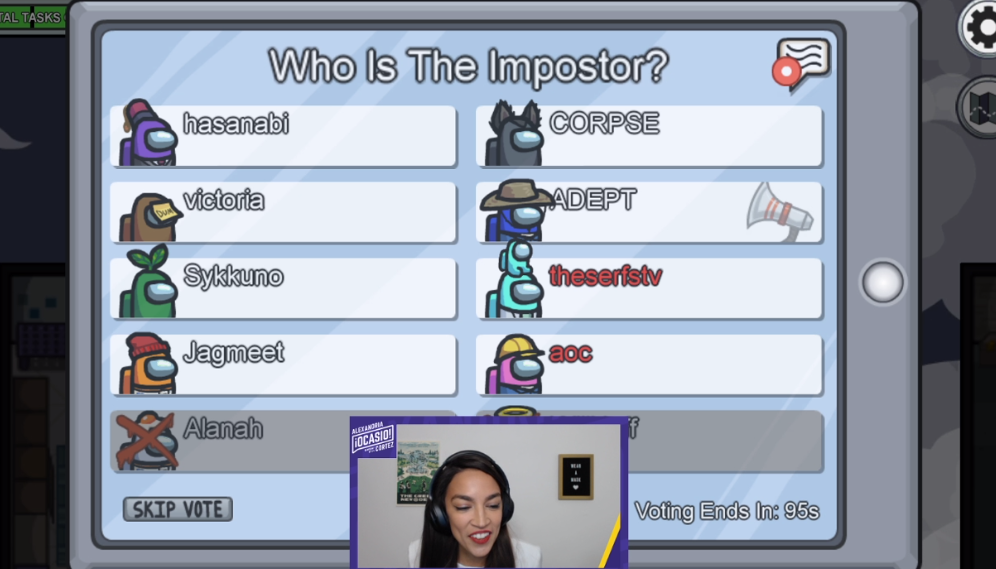 AOC has proven to be a natural talent for streaming and he has a lot of fun playing Among Us (Picture: AOC)
Like with her previous stream, which had a goal to motivate the youth to vote, the last night's stream wasn't without a cause as well.
AOC used her stream to fundraise money for local food banks, legal aid, and community support organizations.
"This week, as some families celebrate Thanksgiving, others face food & housing insecurity at levels not seen since the Great Depression," says AOC on her fundraising page. "Your contribution will directly bolster these critical efforts, at a moment they're needed the most."
And Twitch community showed once again its alturistic side.
AOC's stream on Friday raised over $200,000 for this cause in just a few hours.
We did it!

$200k raised in one livestream (on a whim!) for eviction defense, food pantries, and more.

This is going to make such a difference for those who need it most right now.

Thank you all 👾💞 https://t.co/KX5m5GXJ9B

— Alexandria Ocasio-Cortez (@AOC) November 28, 2020
"We did it! $200k raised in one live stream (on a whim!) for eviction defence, food pantries, and more. This is going to make such a difference for those who need it most right now."
She was pleased to see an overwhelmingly positive response from the community and happy to find out that Twitch viewers share her commitment to helping those in need, and so she promises that she will return with another stream as soon as possible.
"You all fundraised so much, I will commit to doing another stream. I'll 100% do another one, and we will figure out when, and with who, and where, and what to play," she pledges to viewers. "Thank you again, I just so sincerely appreciate it from the bottom of my heart."
She even jokingly teased the idea of getting Bernie Sanders on with Hasan "soon", saying that he would love to play Among Us, but it might be too much technology for him, and so she recommended parlour game Backgammon instead.
While the potential stream with Bernie Sanders was most likely a joke, we can probably expect to see some other political figures on her next stream.
If you are interested in helping AOC's cause, visit her "Help fight food and housing insecurity" fundraise.