There has been a lot of recent drama regarding organization
One True King
(OTK), IRL streamer Jinnyty, and her brother. Basically, the Korean IRL streamer has been travelling across the United States, and stayed with OTK member Esfand at the organization's house. She also invited her brother to the house, which caused tension, leading Jinnytty to announce her return to South Korea.
This issue has gotten a whole lot of traction on Twitch and blew up on LiveStreamFails. Her brother (KrustingKeven), which is also a Twitch streamer, also claimed COVID-19 didn't affect him "that much" and explained he was "just chilling" which upset viewers even further.
Since the incidents involving Jinnytty and OTK, there appears to be a lot of hate towards the Korean IRL streamer, and some misinformation is being spread around. 
Many conversations are being had on the topic, and IRL streamers travelling during the global pandemic which has killed millions. Even xQc blasted IRL streamers for travelling during this difficult time.
Mizkif asks fans to stop hating on Jinnytty
The issues began due to tensions between Matthew "Mizkif" Rinaudo and Jinnytty, as she was staying in the OTK house. Mizkif had health concerns and was worried about the health of Tips' new baby, as well as Asmongold's mother.
Mizkif has now spoken out in a recent stream, asking fans to stop sending hate to Jinnytty, as they both appeared on the stream together.
(Picture; Miskif)
First up, Mizkif explained it was everyone's fault, stating: "We both know that there have clearly been people who were fabricating stuff and making things worse I think it's the community, I think it was Jinny's fault - it's also our fault, too, my fault."
Miskif then continued by explaining how Jinnytty has been crying a lot, and is chalking this situation up to massive "communication errors". 
Miskif continues: "We hate that this turned into this crap. It really makes us sad. I know she's been crying a lot, and it makes me feel really shitty, thinking that any of this is a problem. 'Cause I like Jinny a lot, and I know my community does, too. I don't want Jinny to be upset, at all."
Miskif asked for fans not to send hate to Jinnytty.
Asmongold explains OTK Jinnytty drama
Famous World of Warcraft streamer and founding member of OTK, Asmongold, took to Twitter in a TwitLonger post to further clarify and explain what went down.
First up, it is important to note that despite popular belief, Asmongold reveals OTK didn't kick Jinnytty out of their house. Instead, it was Jinnytty's idea to leave the house and the United States.
Asmongold notes this all basically comes down to miscommunication of quarantine expectations. OTK had a set of quarantine rules to follow, which Asmongold doesn't go into detail about.
His statement, however, explains what actually happened, which you can read below.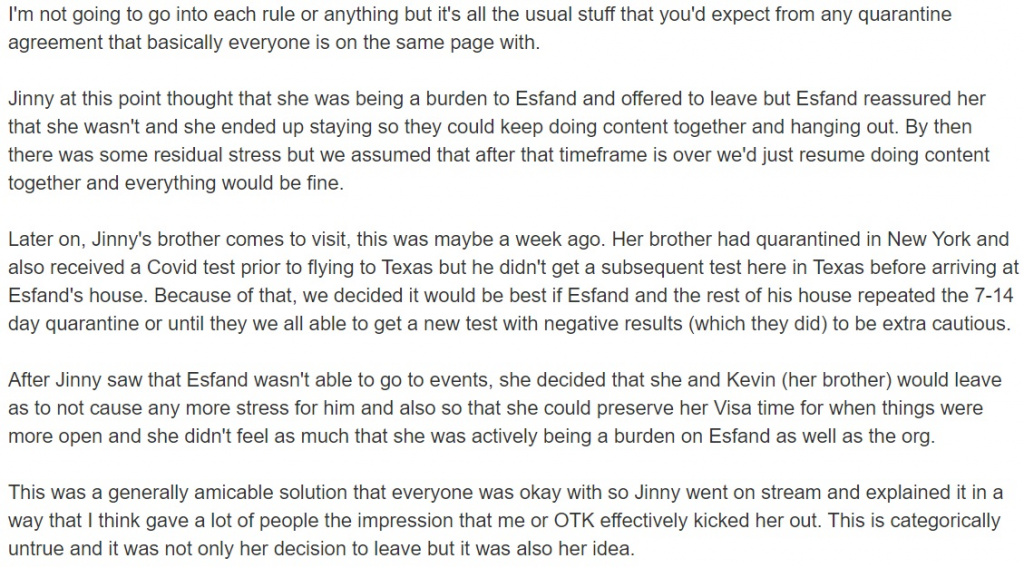 (Picture: Asmongold)
Asmongold continues by explaining: "After Jinny saw that Esfand wasn't able to go to events, she decided that she and Kevin (her brother) would leave as to not cause any more stress for him and also so that she could preserve her Visa time for when things were more open and she didn't feel as much that she was actively being a burden on Esfand as well as the org."
Asmongold explains how this was an amicable solution which everyone was okay with. However, some people got the impression OTK kicked Jinnytty out of the house, which is "categorically untrue".
Asmongold believes Jinnytty leaving was "a smart idea because not only did it relieve Esfand of the burden of having to worry about extra people but it also preserved her Visa time so that she could come back later and visit when they would have more opportunities to do fun stuff together."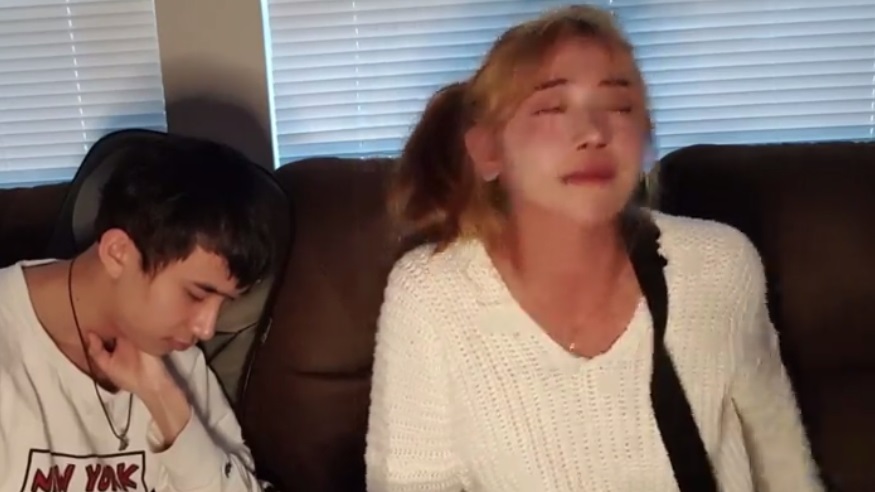 (Picture: Jinnytty)
According to Asmongold, the situation has been negative for everyone involved. OTK has learned a lot from the whole drama involving Jinnytty and how it all spiralled out of control.
It appears there are no hard feelings at all between OTK members and Jinnytty, as they wish her and her brother safe travels, and also look forward to seeing them again with opportunities to do things together.