We recently reported on an
in-real-life (IRL) stream sniping incident
, where
One True King
members as well as several other popular Twitch streamers met up for some IRL streams. Someone managed to track down the streamers as Mizkif was shopping around for a Porshe, and during this creepy incident, profanities were blurted out by the stream sniper (a member of Ice Poseidon 2 network), and some really awkward moments occurred. One day following the incident, Asmongold has now revealed that OTK might get extra security.
Asmongold on OTK security & IRL stream sniping
Despite nothing really serious happened during the recent IRL stream sniping incident involving OTK members, one of the founding members, Asmongold, spoke out about security measures.
Asmongold revealed that OTK is considering hiring security for future IRL streams due to the events which occurred on 29th May 2021.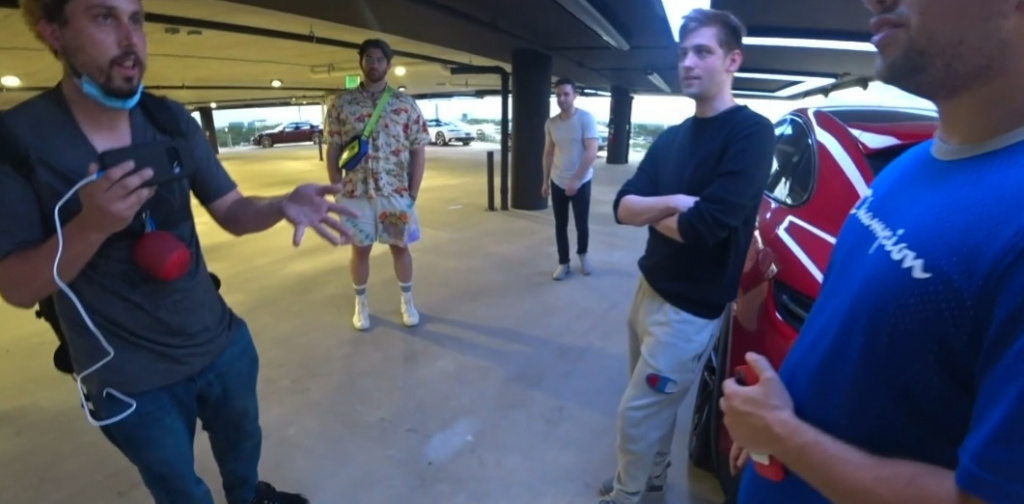 (Picture: Mizkif)
Asmongold noted how IRL stream sniping isn't really an invasion of privacy. However, things can get really weird and uncomfortable.
When asked about the IRL stream sniping incident on Mizkif's stream, Asmongold explained: "Yeah it was really unfortunate, we're gonna have to hire security, probably, in the future if we wanna do stuff like that. The stream sniper stuff, can be funny to an extent, right? The truth is that you never know who's going to be sniping you, and it's actually really weird and uncomfortable."
Asmongold further explained with an example as to why OTK might get security for future IRL streams: "Imagine somebody watching you on a broadcast, and then triangulating your location, and then driving to your location, in person, to like, interact with you. That would make anybody I think uncomfortable. It's funny as a viewer, but as a streamer it's unnerving."
For reference, you can check out a clip from the IRL stream sniping incident below.
Safety is, of course, a concern for public figures such as Mizkif, Asmongold, and just about every popular content creator out there. The best solution would be to have some security to protect streamers, especially since just like a box of chocolates, you never know what you are gonna get. Better safe than sorry...
Check out our dedicated section for more Twitch news, from the antics streamers get up to, to the hot tub meta and more.