UPDATE:
Hours after the
original tweet
that called him out and shortly after this article went live, Dream started streaming a
Charity Q&A with GeorgeNotFound
.
Original story:
Ah crap, here we go again… Clay AKA Dream is in hot water yet again and now in a painfully hilarious way.
The 21-year-old is currently facing backlash after disappearing from Twitch during Pride Month. The issue, however, is not his absence, but the premise that really got the community's goat.
Since promising to donate "any money from subs, donations, bits, or otherwise from streaming this month" to The Trevor Project, an LGBTQIA+ non-profit, Dream failed to stream even once during June.
"Dream stans: 'Oh maybe he forgot!' Pride Month was literally shoved in your faces for the entire month of June, Dream even sold (sh*tty) pride merch so he clearly knew", witnesses quickly dismissed the possible stan excuses.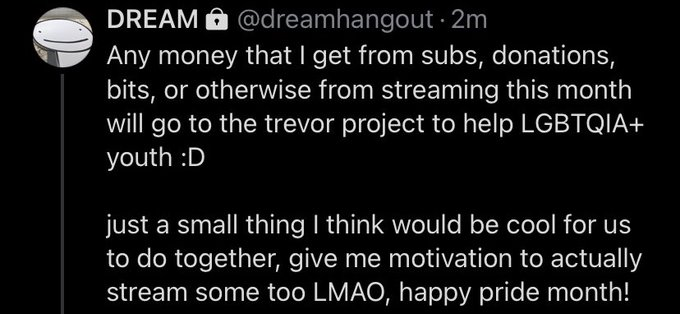 Capture of the original tweet posted at the beginning of the month from his private Twitter account. (Picture: Twitter/@dreamhangout)
Although it is well-known the American content creator started to shy away from streaming after his cheating allegations began after close analysis of his day-to-day gameplay, his last stream, announcement and absence look poorly timed, to say the least.
His last stream was on the day before Pride Month started, on 31st May. Ending the broadcast one hour and 15 minutes shy of 1st June, promising to forward all monetary gain, then not streaming to allow the flow of income is a whole new level of memeing, if done intentionally.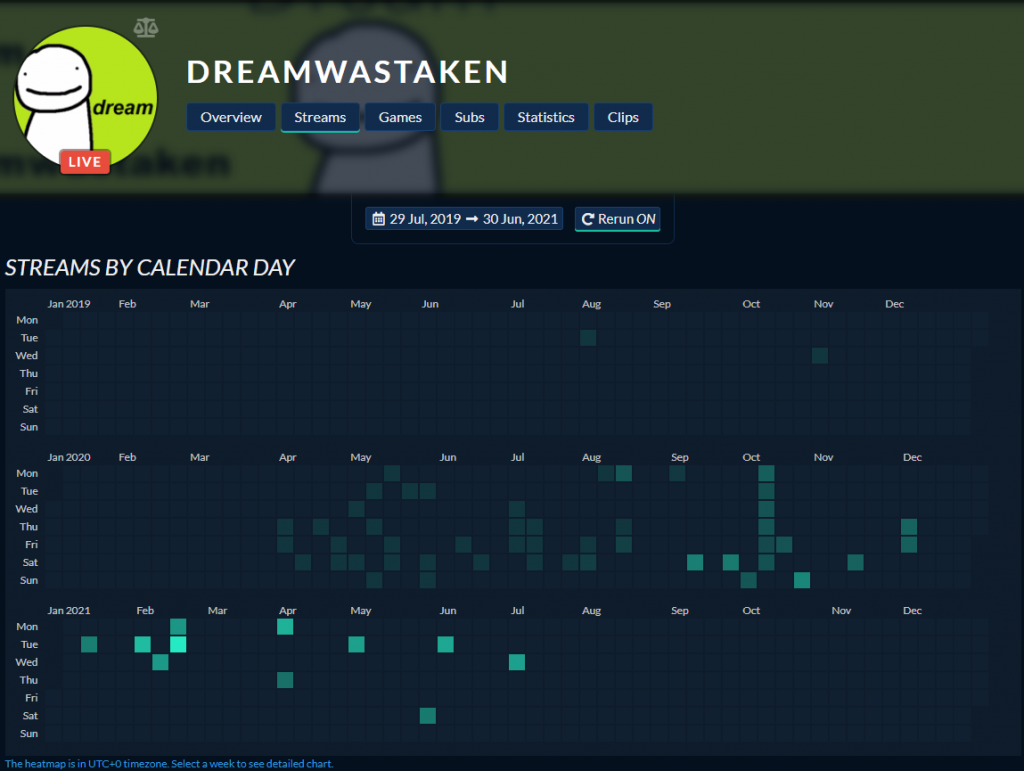 Dream's 30-month streams according to Twitch Tracker. (Picture: Twitch Tracker)
And whilst, yes, the Minecraft superstar combined efforts with long-time collaborators and friends George "GeorgeNotFound" Henry Davidson and Nicholas "Sapnap" to donate $50,000 to Trevor and an alleged 10% of all their Pride Month merch profit on top of that -- a big portion of his followers still deemed the efforts insufficient.
Especially in the midst of an accusation tornado where more dirt is dug up on the man than ever, members of the LGBTQIA+ community did not take Dream's absence and tomfoolery lightly.