Facebook Gaming streamer Jerry Banfield, best known for his
Call of Duty: Warzone
streams, recently sparked outrage after hosting a controversial live stream, declaring that he now self-identifies as a black man. "I no longer wish to be identified [as] white or Caucasian," Banfield said.
According to Banfield, he believes his purpose in life is to help the people of the world get into a "Star Trek future," which includes embracing "all kinds of different life forms." Followingly, Facebook Gaming revoked Banfield's partner status and his access to its monetisation tools.
Warzone streamer declares himself a "black man" in Facebook stream
Banfield claimed his newfound racial identity while streaming Warzone on 16th February 2022. "I'm not a comedian, I'm dead serious, I'm not playing around [...] I'm now a black man, I identify as African American; I don't want to be called white," the streamer said.
In other news, a Facebook Warzone streamer is now claiming he is a black man. This certainly won't cause any controversy. pic.twitter.com/57vD1zxImK

— Jake Lucky (@JakeSucky) February 16, 2022
Later, Banfield said people might find it difficult to identify him as a "black man" right now; however, he noted that "maybe in seven years" when his skin cells darken up, he will more easily be identified as such.
"I could look down today and look at [my] penis that's right there, and say 'I'm a woman; everyone, I'm a woman.' I could look down and do that perfectly well today [...], and I've chosen that I'm black. I've had enough of being white, I'm tired of identifying as white, and that's not true for me anymore," Banfield said.
Man I am way too sober for this sh*t what am I watching pic.twitter.com/N62T6uyL20

— Jake Lucky (@JakeSucky) February 16, 2022
Later, the Warzone streamer officialised his self-proclaimed racial identity in a Facebook post, writing, "I am now a black man and an African American. I no longer wish to be identified [as] white or Caucasian. For years I have wanted to make this change, but I thought I couldn't [do it] because of my current skin colour."
Banfield continued, writing that "if a man or a woman can suddenly decide [...] to change their genders, and be fully supported in this transition, then I absolutely can make the same decision for my race."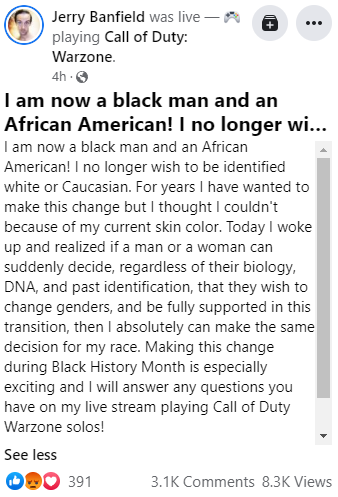 It's needless to say that, despite announcing his "transition" during Black History Month, the overwhelming majority of social media users did not approve and instead found Banfield's statement tormenting. Other users questioned his sanity and wondered whether he was perhaps on drugs.
"At this time in our society, an attempt to identify as African American is an attempt to gaslight hundreds of years of segregation and the ongoing oppression of black people. Even if you are mixed, identifying as Black or White is easy," wrote Twitter user @IanaThompson.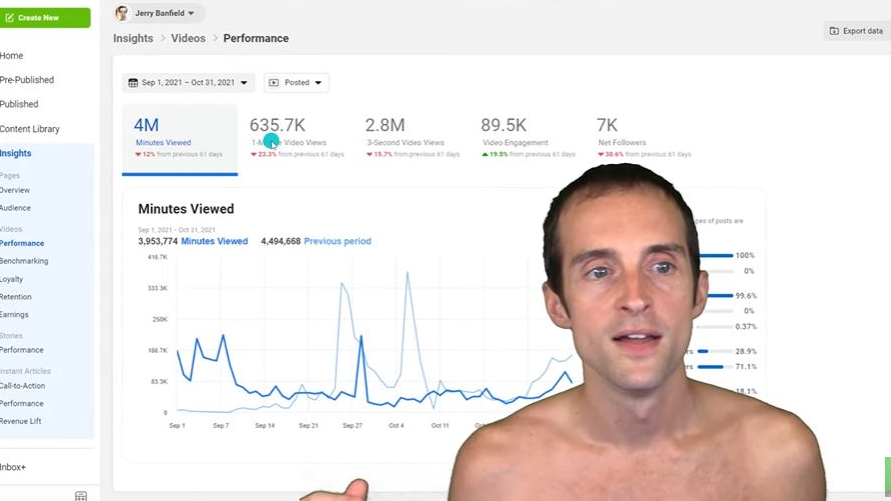 "He's taking the piss out of trans people and pronouns essentially like race and gender are even the same things," wrote Twitter user @JustKally_. "This guy is on some heavy drugs," wrote @Sonii.
Facebook cuts ties with controversial streamer Jerry Banfield
Facebook Gaming responded to the outcry via a Twitter post on 16th February, writing that Banfield's Livestream ran "counter to the spirit of Black History Month." The company added, "We have cut ties with the creator in question, removing them from our official programs, including access to the monetisation features, effective today."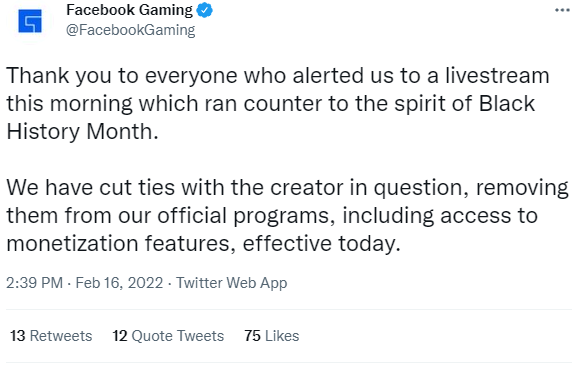 Banfield later acknowledged the monetisation violation and removal of his partner status, criticising Facebook's decision. "We live in a world where we are free to change genders and; therefore, this must apply to race as well, regardless of outward appearances," Banfield wrote.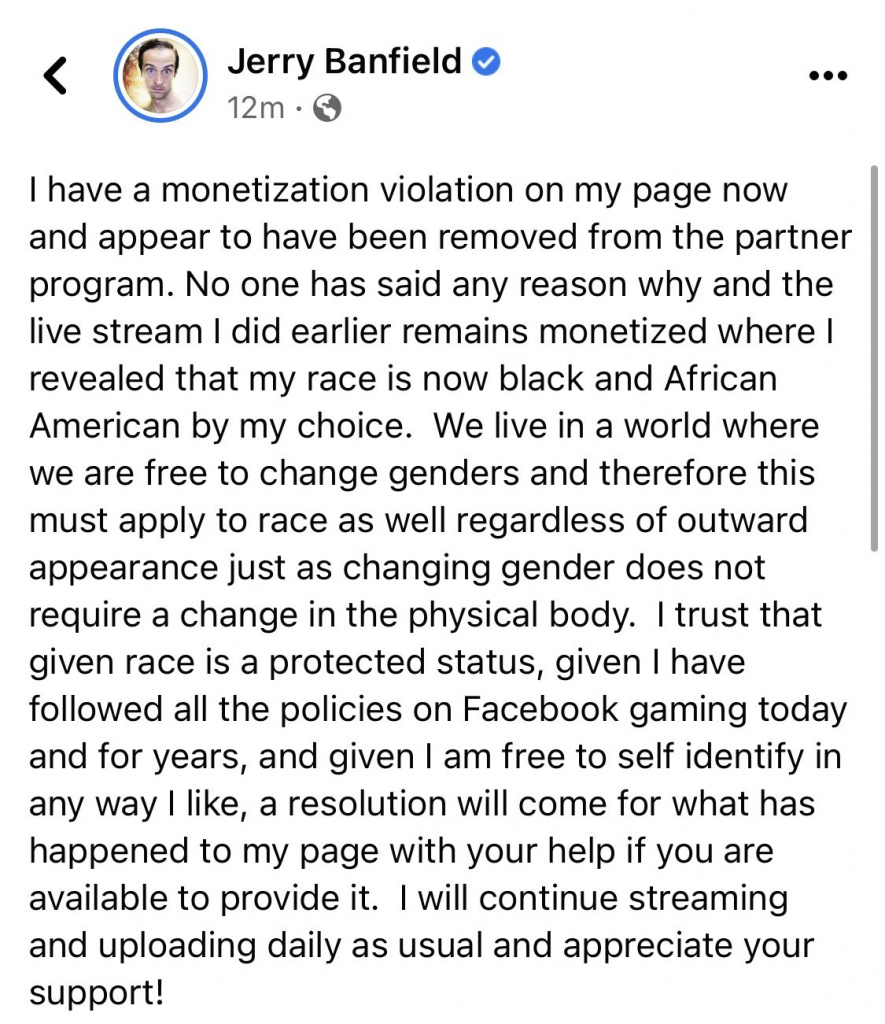 The streamer continued, saying, "I have followed all the policies on Facebook Gaming today and for years and given I am free to self-identify in any way I like, a resolution will come for what has happened to my page."
He concluded, "I will continue streaming and uploading daily and usual." Banfield's Facebook page has been unpublished or deleted at the time of writing.
Featured image courtesy of Twitter / Jerry Banfield and Activision.