Soleil "Ewok" Wheeler is one of the many streamers who got blindsided by the Mixer shutdown. Just this week, we saw the return to streaming of Shroud and DrDisrespect, and now, FaZe Clan's Ewok has returned to Twitch in style. The deaf 14-year-old Fortnite pro boasted some great viewer numbers for her first Twitch stream upon return.
FaZe Ewok returns to Twitch
Ewok announced her return to Twitch as well as an exclusivity deal with the streaming platform recently. Then, on 13th August, the young streamer for FaZe Clan kicked things off with some Fortnite, and Fall Guys.
Ewok's Twitch channel now sits at 292,000 followers, and judging the response from fans, they've been waiting anxiously for her return to Twitch.
In an interview with ESPN, FaZe Clan's Ewok explained why she signed an exclusivity deal with Twitch, over other competitors, noting how it is the best platform for her to continue building her brand: "I decided to return to Twitch because the platform has a vast network, and I had already established a community there before switching over to Mixer
"It's also the best platform for me to continue building my brand. I also miss Twitch Rivals and meeting people that have supported me since day one."
Soleil "Ewok" Wheeler's return was a triumphant one indeed, posting some impressive stats for her first Twitch stream in a very long time.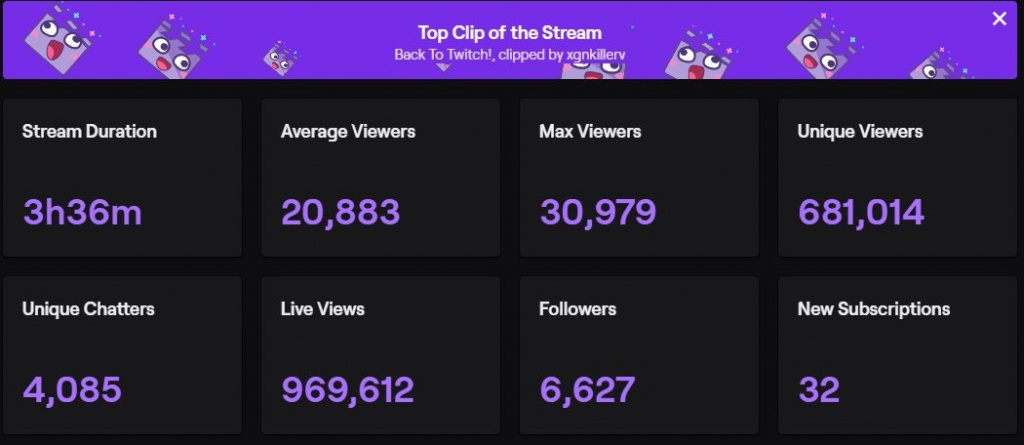 Ewok's stats for her first stream back on Twitch (Picture: Ewok)
While the stats aren't as impressive as Shroud's, FaZe Clan's Ewok did make a splash on her return to Twitch, impressing fans with her skills and showmanship. 
You can watch Ewok's first Twitch stream since her return below.