Signed for the 2011-12 season, Manchester City's Sergio Aguero has become a legend for fans of the Sky Blues, helping them get their hands on five Premier League titles in his nine-year spell while becoming the highest goal scorer in the history of the club with over 250 goals.
Such a high profile football star would naturally make waves outside his comfort zone, landing on streaming as a way to cope with what it seemed to be the never-ending wait for football to return following the COVID-19 outbreak that suspended leagues, and pretty much everything else, across the world.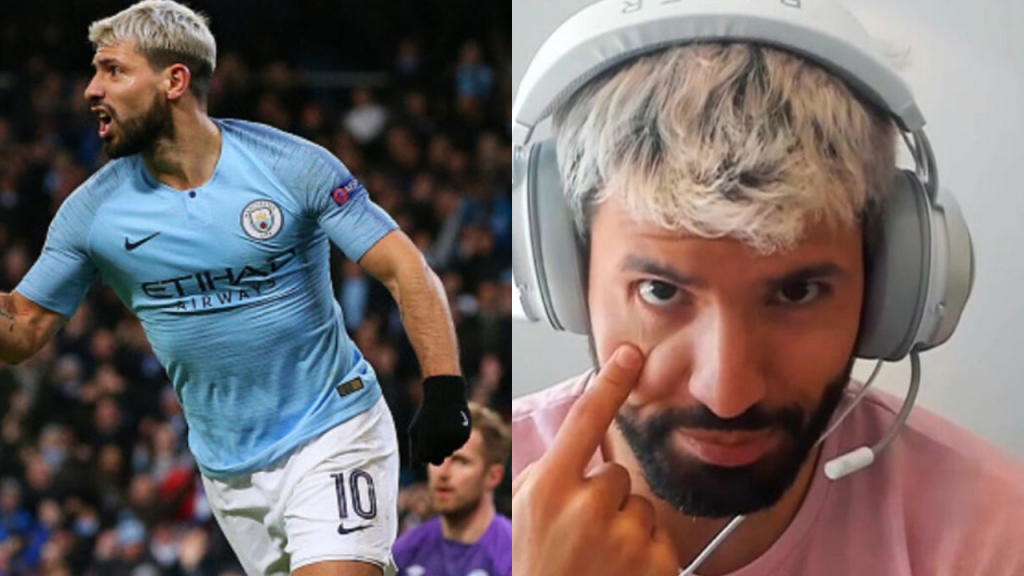 (Picture: Sergio Aguero)
Like many others, Kun's appeal revolved around seeing an outsider dip their toes in the world of gaming and Twitch. His initial setup in April included using the default PlayStation 4 camera and streaming capabilities while he looked at his chat on a phone, something even amateur streamers would scoff at. With viewership in the low hundreds, it wasn't a bad start to a career, but then again this is Sergio AGUEEERROOOO.
It seemed Aguero's Twitch venture would be nothing more than a novelty for football fans eager to get a hold of anything that reminded them of simpler times when they could see the 32-year-old slaloming through defences. After all, there's only so much fun one can have seeing an unprofessional, unprepared streamer with minimal viewer interaction as opposed to broadcasters that have been grinding the business and know how to properly engage with their communities. Do you remember Arsenal's Mesut Ozil Twitch streams? Neither do I.
Yet, Aguero seemed keen upon improving on every aspect of his stream. His natural charm and wit opened the gates for people that may have not rated him for his football skills or the team he plays for to become fans of this new Sergio, one that could be easily separated from his regular goalscoring self.
Aguero might not be tech-savvy, but that natural charisma was enough for his stream to slowly pick up steam among the Spanish speaking Twitch audience, with "Best Of" YouTube compilations popping after every Kun stream, cracking millions of views despite his live audience coming nowhere near close to those numbers early on.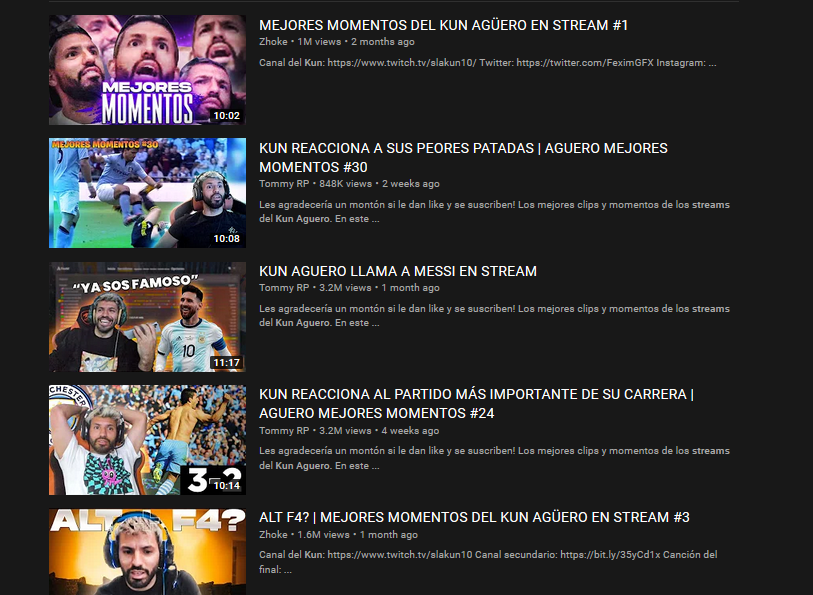 Kun Aguero stream compilations consistently reach millions of views on YouTube.
It's the attention to detail that propelled Aguero to the next level. Ditching the almost toylike nature of his initial setup, Kun rapidly understood the importance of having the proper equipment, improving the viewer experience and going as far as adding detailed touches to his stream layout, including a starting soon screen, Twitch emotes and setting up bits/donors/sub notifications fairly quickly.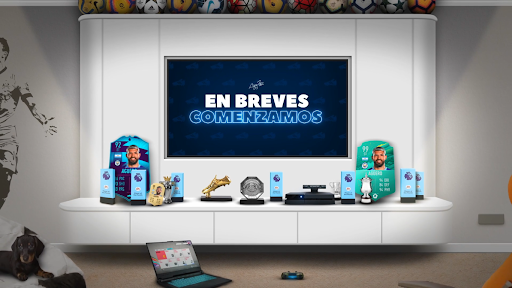 Kun Aguero's starting soon screen (Credit: Twitch.tv/SLAKUN10)
You might think this all sounds inconsequential, however, it is one of the most important aspects a streamer needs to nail if they wish to succeed in the industry, no matter your status outside of it. When you tune in to a DrDisrepect stream (before his Twitch ban that is), you rarely do so for the gameplay, he doesn't particularly excel at FPS' and you could easily find pro players delivering high-quality gameplay elsewhere. You watch him for his antics, his on-stream persona, the slick transitions, funny montages, and banter in between matches, with the occasional "real talk" moment shining through.
The Argentinian got his streaming look right and his views skyrocketed to such a degree Kun Aguero became the fastest-growing Twitch streamer in the world in May and is currently sitting in second place for the month of June according to Twitch Metrics.
Aguero then expanded his reach well beyond doing FIFA 20 streams. He started playing a variety of games and also roped in his compatriot, and football god, Lionel Messi on stream for a quick chat.
If Aguero isn't messing with perhaps the greatest footballer to ever live, he is roleplaying in GTAV, reacting to his own matches and iconic goals, trying to understand how Valorant works and playing the latest titles to hit the market, such as The Last of Us 2, all in front of a burgeoning audience that, in the span of three months, grew from a couple hundred to over 20,000 recurrent viewers.
Aguero's hunger for internet dominance didn't stop there, quickly following up his Twitch fame by using his previously moribund YouTube channel to upload official stream highlights. According to stats provided by Social Blade, the channel went from having 248,000 subscribers at the start of June to 1.5 million and counting as of today, making it the channel with the third-best growth in the platform over the past few days.
This newfound success outside football coincides with the winding down of an illustrious career on the pitch. This season may well mark Aguero's first since the 13-14 campaign where he's not going to break past 20 league goals (he's currently sitting at 16 while having to deal with an injury).
Don't get me wrong, I'm not implying by any means that Kun should immediately hang up the boots and ride into the imaginary Twitch sunset. At 32 years of age, he can still be a valuable asset to Manchester City, and virtually any other team in the world for that matter, he's that good. Still, it's obvious a new avenue for opportunity following life after retirement is knocking upon his door.
If Aguero's success on Twitch is already massive without being his main priority now that football is back on track, doesn't it make you wonder how far can he really go if he full-time commits to it and inevitably, who will follow in his footsteps? Maybe, in the distant future, people will recognize Aguero for his reaction videos, rather than his football heroics.