Twitch streamer, MikeyPerks previously announced on the 27th of July 2021 that his daughter, Sarah Nicole Perkins, went missing after sneaking out two days earlier. According to Mikey's initial tweet, she had snuck out to attend a hotel party with older friends in Springboro, Ohio.
His tweet subsequently trended the #FINDSARAH hashtag and garnered tremendous community support, across social media. After being missing for an entire week, Mikey announced that Sarah had finally been found.
#FINDSARAH: Sarah Perkins has been found
On the 2nd of July 2021, MikeyPerks announced on Twitter that "Sarah has been found" after tippers noticed his daughter's face from the flyers he disseminated in the area. He proceeded to thank everyone for their support, citing: "my daughter is found because of you".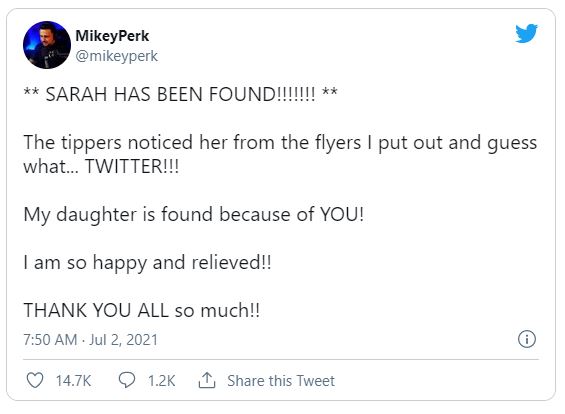 We can't imagine the relief and joy that MikeyPerks must be feeling and we hope that Sarah was not harmed or in any kind of danger during her absence. "I am so happy and relieved. Thank you all so much", he said.
"I am so blown away by the power of the internet. So many different people from different walks of life came together and look at the result. I am so happy for you", one Twitter user commented.
Alinity also reached out to show her support, tweeting: "Amazing news! Thank you for [keeping] us updated. So happy you can finally have some peace", adding a heart emoji at the end.
AMAZING NEWS! thank you for keeping us updated. So happy you can finally have some peace ❤

— Alinity (@AlinityTwitch) July 2, 2021
It's heartwarming to know that the internet chipped in to make this happen and the nonstop love and support that supporters have demonstrated are incredible. We are absolutely delighted to hear that Sarah has been found and we hope that she won't be sneaking out again anytime soon.
In case anyone reading this article missed the backstory, MikeyPerks uploaded a detailed video around how Sarah went missing and answered some common questions. We've linked this video below for your viewing consideration. 
Note: this video was uploaded to YouTube prior to her being found. 
We expect that Mikey will provide further details regarding Sarah's whereabouts and where she was found. We will endeavour to update you as more information becomes known.
Don't forget to check out our dedicated Twitch section for news, streamer antics, drama, and more.
Header image via YouTube / MikeyPerks