Ali "Myth" Kobani has come a long way since he burst on to the scene as Fortnite's most accomplished builder
Gone are the streams with tens of thousands of viewers at one time, gone are the attempts to remain competitive in a fundamentally broken esport, and with those things in the past, gone are the expectations of others.
Tune into Myth now and you find someone older and more relaxed, shed of the albatross around his neck (approx. weight 78 million kids) that the "world's best builder" tag burdened him with and you find a streamer enjoying life and his work a whole lot more.
That's allowed Myth enjoy himself and in recent weeks viewers have been discovering his talents of impersonation. First, we heard him doing a pitch-perfect xQc, and now we have him absolutely nailing right-wing commentator Ben Shapiro's reading of WAP - the hit song from Cardi B and Megan Thee Stallion.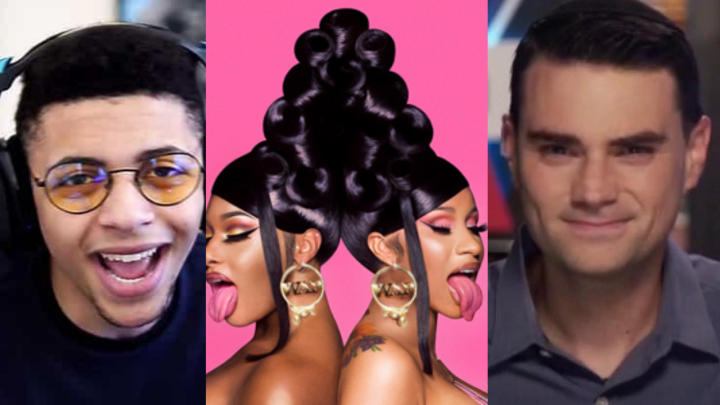 (Picture: Myth / Cardi B / Ben Shapiro)
If you have been living under a rock and you are unaware, Ben Shapiro's original dissection of the song quickly went viral, with the straight-laced conservative, unwilling to even say the title of the song.
"Wet ass p-word (female genitalia)" quickly became a meme and it wasn't long before a remix was out that put Ben Shapiro's rendition front and centre (okay, centre-right).
While Ben Shapiro found fault with the song's feminist credentials, Myth appears to get a much bigger kick out of Shapiro's reluctance to swear. Bringing up the lyrics, and playing the instrumental of the hit song, Myth "sings" the song ala Ben Shapiro while absolutely nailing the Daily Wire host's nasal voice.
"Certified freak, seven days a week, you're f**king with some wet a** p-word, (Female genitalia)", begins Myth.
"Bring a bucket and a mop for this wet a** p-word, give me everything you got for this wet a** p-word."
"Now the song gets more and more vulgar," he says as he pauses the song, continuing: "Incredibly vulgar, and... the vulgarity of the song... the song is absolutely obscene, it is ridiculous. I mean really listen to the lyrics." Close your eyes and you would be forgiven to think it was Ben Shapiro himself talking.
"Now this is the problem I have with modern-day feminism," says the TSM man as he begins a game of Valorant. "It is about the women dominating the men in satanic form..." he says channelling Shapiro.
We can only hope Myth doesn't attempt to go pro in Valorant, because his skills would be wasted if he was only clicking heads.