Each week, Zestats provide us with in-depth statistics about everything going on in the world of Twitch. This last week, we've seen some familiar faces in the fray and, with some of the clips here, it's not hard to see why.
The streamers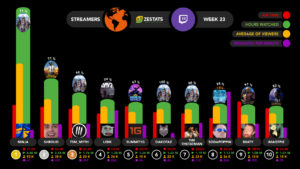 Once again, Ninja has a considerable lead over the rest and Shroud trails behind him in second place. Myth occupies the third spot for the second consecutive week, having upped his streaming hours considerably since this time last month. Someone we don't often see in the top ten is B0aty, popular Runescape streamer. With any luck, he may be able to keep it up going into next week. Here are some of the best clips from your top streamers of the last week: It's interesting to see that a lot of top streamers have been venturing outside of Fortnite this last week. With Hi-Rez's Paladins spinoff Realm Royale now available, we've seen the likes of Ninja and TimTheTatman trying out the new battle royale game to see how it compares to Fortnite.
The games
We see the usual suspects here this week, with Fortnite and League of Legends leading the statistics, followed by the ever-changing blend of Dota 2, IRL and PUBG. Here are a couple of clips to show you how these games keep themselves at the top: As mentioned before, we're now seeing Realm Royale picking up some steam amongst top streamers. Might we see Hi-Rez's new effort break into the top five one week soon? Make sure to check back next week to see if it has, and to find out the streamers and games that are dominating Twitch.