American Twitch streamer Steven Kenneth Bonnell II, better known to his fans as Destiny, has seen his fair share of controversy over the years, for example, the Bob7 drama and allegations. Destiny is known for his political takes and opinions in Just Chatting streams, while also at times playing some games. In a recent Twitch stream, Destiny was talking to influencer Kaylee Kinzie when she took out her phone to show a not safe for work (NSFW) image live on stream...
NSFW image in Destiny's Twitch stream
Twitch can ban anyone for showing any type of lude content on stream. However, sometimes it is clearly bait, for example, when streaming superstar Pokimane was baited into opening porn on stream. 
In the case of the NSFW image appearing on Destiny's Twitch stream, it wasn't the streamer's doing. Instead, during a discussion about American politics, and specifically US President Joe Biden's son, Hunter, influencer Kaylee Kinzie took out her phone and brought a NSFW image up to the camera.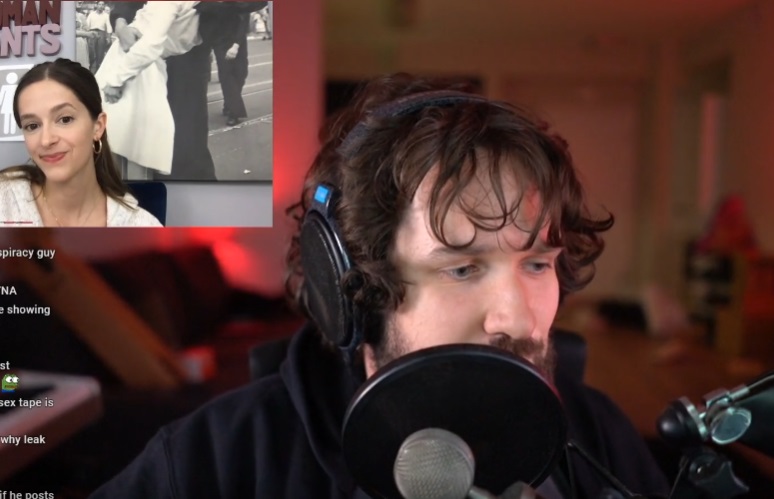 (Picture: Destiny)
While Destiny was talking about photos back in 2011 featuring Joe Biden's teeth, Kaylee Kinzie smiled while she showed the NSFW image live on stream.
Destiny's streaming life probably flashed before his eyes, as he knows full well Twitch could smack him with a ban.
It appeared as if Destiny panicked, screaming "wow wow wow wow" causing Kaylee Kinzie to take her phone away from the camera.
No, we won't show the clip in question, as this is a family-friendly website. It is, however, important to note that although the image was NSFW featuring sexual content, parts were blurred out, and it is difficult to spot any real nudity.
At the time of writing, Twitch has not taken action against Destiny for this incident. He might have escaped unharmed from this one, as it was clearly not his fault at all.
Destiny has had three bans in the past, with the last one taking place on 4th May 2020, so it has been a while...