One True King
(OTK) is a media and production organisation founded by a network of notable streamers, including
Asmongold
, Mizkif and Esfand in October 2020. Hosting some of the greatest streaming talents in the world, OTK has surged in popularity after they announced their position in the global live streaming space.
OTK is the world's #1 live streaming organisation
On the 4th of August, OTK revealed that there are "at the tipitty top of the mountain" and boasted impressive viewership figures on Twitter.
Boasting a total of 25.1 million hours watched in the July 2021 rankings, OTK secures its position as the "#1 live streaming organisation in the world" currently.
It's clear that OTK is far ahead of the pack, with nearly all of the runner-up organisations barely scraping the "20 million hours watched" mark. Runner up organisations placing 2nd to 6th include Luminosity, TSM, RNG, Cloud 9 and FaZe Clan, respectively.
Luminosity, who placed 2nd in the July rankings, managed to narrowly smash 20 million hours watched. This is arguably attributed to famed Twitch streamer, Felix "xQc" Lengyel, who single-handedly garnered 14.1 million hours watched in July, according to Twitch Tracker statistics.
OTK members hours watched in July 2021, according to Twitch Tracker:
Asmongold - 14.5 M
Mizkif - 4.2 M
Richwcampbell - 2.7 M
Esfandtv - 1.5 M
Nmplol - 2.2 M
OTK's success is, no doubt, thanks to Asmongold's immense popularity on Twitch. In July month, Asmongold achieved an impressive 14.5 million hours watched on the platform. This is presumably also attributed to his popularity for his Final Fantasy 14 streams.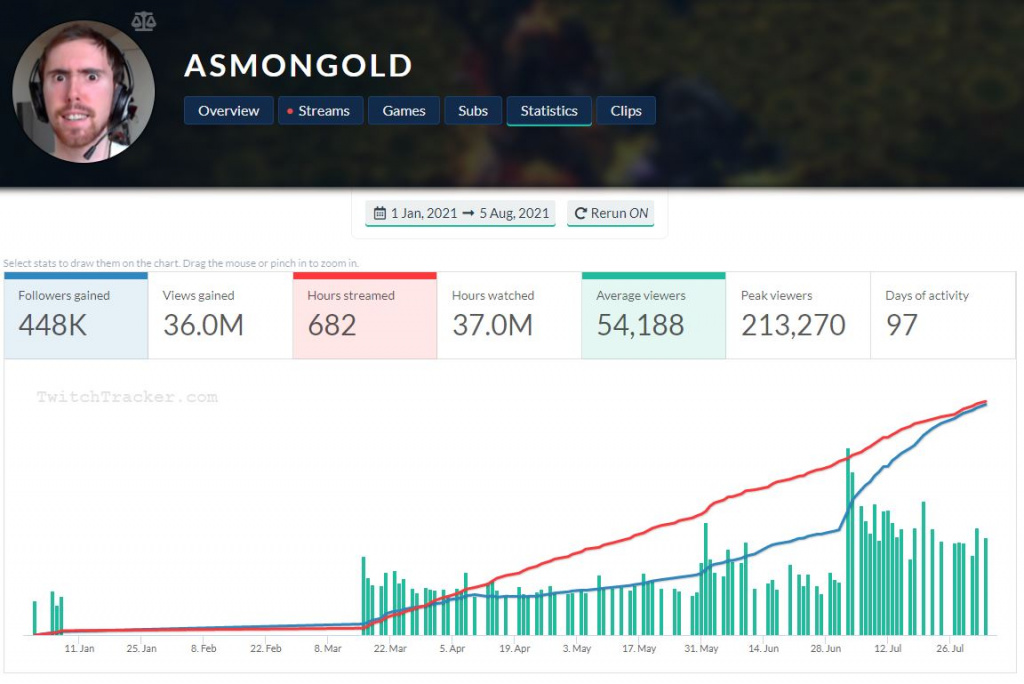 Since the start of the year, Asmongold has accumulated a total of 37 million hours watched and nearly half a million new followers. This is a stark contrast to other notable OTK members who averaged just 2.7 million hours watched.
It's otherwise great to see OTK performing so well and look forward to sharing more success stories like this in the future.
Congratulations on your win, OTK, from all of us at GINX Esports TV!
Don't forget to check out our dedicated Twitch section for news, streamer antics, drama, and more.
Header image via One True King / Game Fuel.