Imane "Pokimane" Anys is one of Twitch's highly successful streamers and an essential figure for women in gaming and esports. Deservingly earning the title of "The Queen of Twitch", it's unfathomable to deny her influence as she goes into the next chapter of her career on the platform.
Pokimane can now add yet another monumental milestone, having reached nine million followers on the platform. Not only does this cement her legacy as one of the most popular female streamers but also one of the most followed.
Pokimane hits 9 million followers on Twitch
Pokimane truly lived up to her title as the Queen of Twitch after the streamer celebrated yet an incredible achievement. During a Twitch livestream on 3rd April 2022, Pokimane was alerted to a notification where a donor informed her that she had surpassed over nine million followers on the platform.
The video begins at the 01:31:00 mark.
The donor wrote in the message, "Hope you finally get that OTV logo there, btw! You just hit 9M. Not sure if you already know, but congrats!" According to the donor, Pokimane has surpassed over nine million followers on Twitch, which the streamer had to double-check after a brief moment of disbelief.
After confirming that she had indeed achieved nine million followers on Twitch, an elated Pokimane celebrated onstream with her followers. "Thank you. Merci, Gracias. Shukran," the streamer said, thanking everyone who had supported her on the platform.
thanks for 9 mil 💜 pic.twitter.com/QaggDTnpW7

— pokimane (@pokimanelol) April 3, 2022
As she continued to thank her followers in multiple languages, her Follower Count continued to grow before she started her Grand Theft Auto V segment. This recent milestone is yet another achievement Pokimane had added to her legendary career while marking an important note for female streamers and content creators.
According to data from Social Blade, Pokimane is the only female streamer in the Top 10 Most Followed Twitch Streamers, being the ninth most followed on the platform with 9,009,289 followers to date. Together with 6,7 million subscribers on her main YouTube channel, Pokimane continues to prove why she's one of the biggest streamers, irrespective of the platform.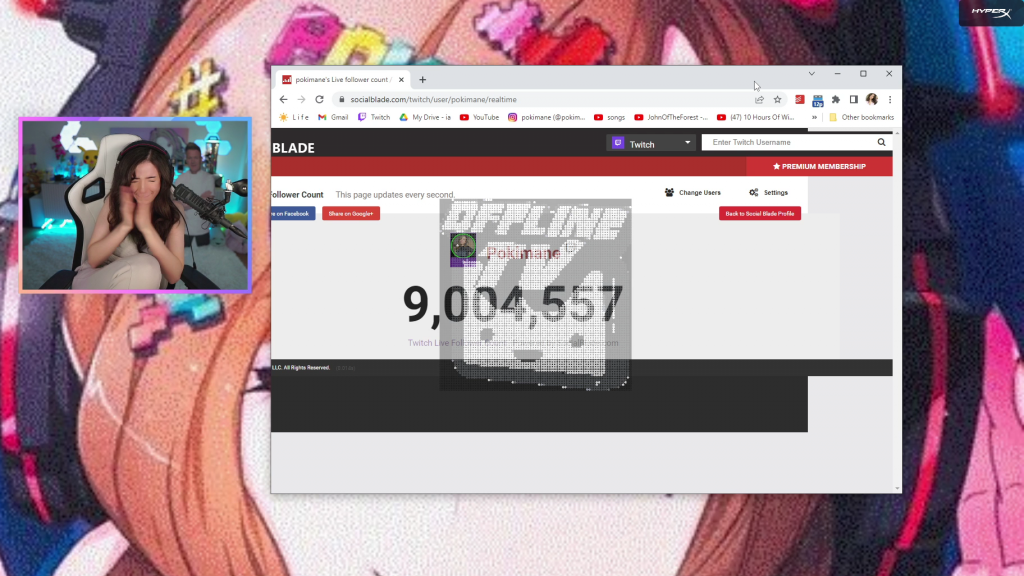 This incredible milestone comes days after Pokimane was the recipient of the Legacy Award at this year's The Streamer Awards and adds to an impressive list of accolades she has achieved throughout her career.
This includes earning the Twitch Streamer of the Year award at 2018's The Shorty Awards, being named one of the most viewed Twitch Streamers and being a member of the OfflineTV crew.
With this milestone in mind, there's no telling what Pokimane will achieve next in her successfully streaming career. Congratulations on this extraordinary achievement, Pokimane! You go, girl!
Featured image courtesy of Twitch & Twitter / Pokimane.