Zain Naghmi (or just, "Zain") is a respected professional Super Smash Bros Melee player for Golden Guardians with over 54,000 followers on Twitch. It would, however, seem as though the pro's "good boy status" has been tarnished. This follows after he received his first-ever ban from the streaming platform after a prank by Ludwig "Ludwig" Ahgren compelled him to change his in-game name to an NSFW meme.
Depending on which way you prefer to look at it, the prank either went horribly wrong or hilariously right. After changing his game tag, Zain was slammed with a lengthy 7-day ban from Twitch. Fortunately, both streamers shared in the humour of the prank, whilst others criticized Twitch for their hypocrisy.
Zain changes Slippi tag to NSFW shock site meme
The prank was instigated after a tweet by Golden Guardians, which read: "the most liked reply to this tweet by the end of the day gets to be @ZainNaghmi's Slippi tag for a week. [Good luck] gamers", to which Ludwig replied: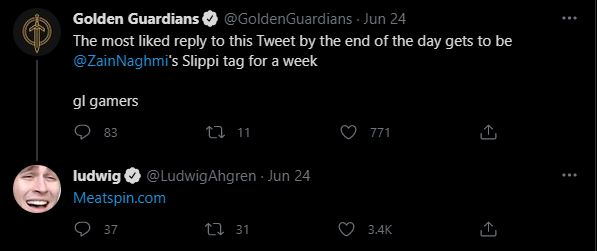 Naturally, Ludwig's response garnered the support of fans and was swiftly deemed as the most-liked response. Remaining true to his word, Zain subsequently changed his game tag to the NSFW shock site, citing: "at the end of the day, business is business".
At the end of the day

Business is business pic.twitter.com/SRxqQKJOvx

— Zain (@ZainNaghmi) June 25, 2021
Twitch followed suit and took action by slamming Zain with his first ban from the streaming platform, lasting a hefty 7 days. We can speculate that the ban was no doubt the result of Zain violating Twitch's policy against pornographic and other adult content, which the shock site alluded to. 
Despite having arguably the entire Smash community rolling on the floor laughing, it would seem as though Ludwig had the biggest laugh, citing "I ruined him ROFL".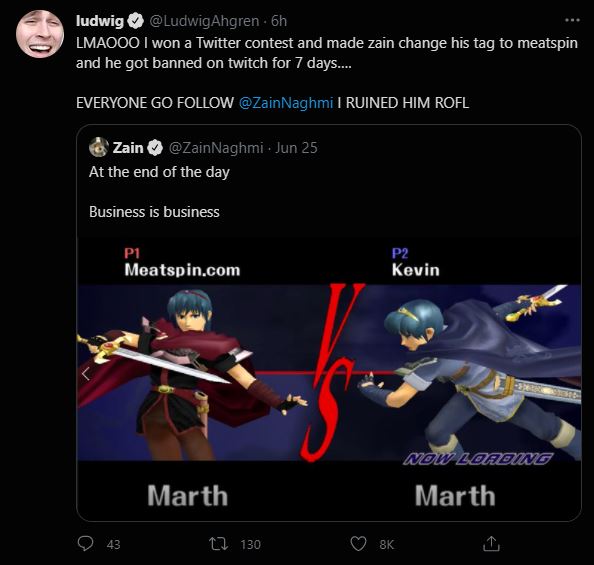 We can expect that Ludwig will make up for Zain's lost revenue this week with a few gifted subs upon his return. Golden Guardians also replied to the ban, with a simple, "oops".
oops

— Golden Guardians (@GoldenGuardians) June 27, 2021
We guess Zain will just have to enjoy playing Fall Guys off-stream for the time being.
Twitch criticized for being a hypocrite 
In a previous article, we covered a similar response by Twitch, after they banned JubileeBlais for linking her OnlyFans on her Twitch account, despite the account allegedly not having any NSFW content. Some fans, however, have criticized Twitch for only unbanning  Amouranth and Indiefoxx after just 3-days, after their provocative ASMR and hot tub stints.
Some fans even took to Reddit, with one person saying: "it makes sense to ban, but it's also super hypocritical by Twitch by allowing so much blatant sexual content from certain other streamers that [aren't] hidden behind a link people have to Google themselves", and other commenting, "the fact that they f***ing glorify hot tub streams is gross and creepy as s***"
What are your thoughts on the ordeal? Was the ban justified and was Twitch fair about the ban? Let us know by tweeting at @ginxtv or @newsginx.
Don't forget to check out our dedicated Twitch section for news, streamer antics, drama, and more.
Header image via Twitch /  Zain Naghmi / Ludwig