Twitch has been severely criticized in the last few weeks for their lack of concrete action following the mass allegations of sexual misconduct involving prolific streamers such as Hearthstone player Amaz, accused of forcing a girl into a hot tub with players. Now, it seems they're finally strongly addressing the issues.
Streamers permabanned from Twitch
The platform has begun to enforce a zero-tolerance policy regarding these issues, handing bans on a case-by-case basis taking into account the severity of the allegations. According to industry insider Rod "Slasher" Breslau, Twitch had been hesitant to act since "most of the alleged incidents took place off Twitch," adding that: "the company states they will need more information with some cases being reported to the authorities," in a social media post.
Streamer turned Twitch icon thanks to his emote Brad "BlessRNG" Jolly, was one of the first people permabanned from the platform after his admission of guilt following accusations of him sexually assaulting a person he had no previous encounters with. His most famous emote was also completely removed.
I've been accused of abuse today.

I take responsibility for this and hold myself accountable, and have improved with therapy, medication and protecting others at events but I still have a ways to go.

I have also been abused and need to share my story.https://t.co/WcB4c3YuCZ

— BlessRNG🙏~Brad Jolly @ #BLM (@BlessRNG) June 22, 2020
"I take responsibility for this and hold myself accountable, and have improved with therapy, medication and protecting others at events but I still have a ways to go," he tweeted out.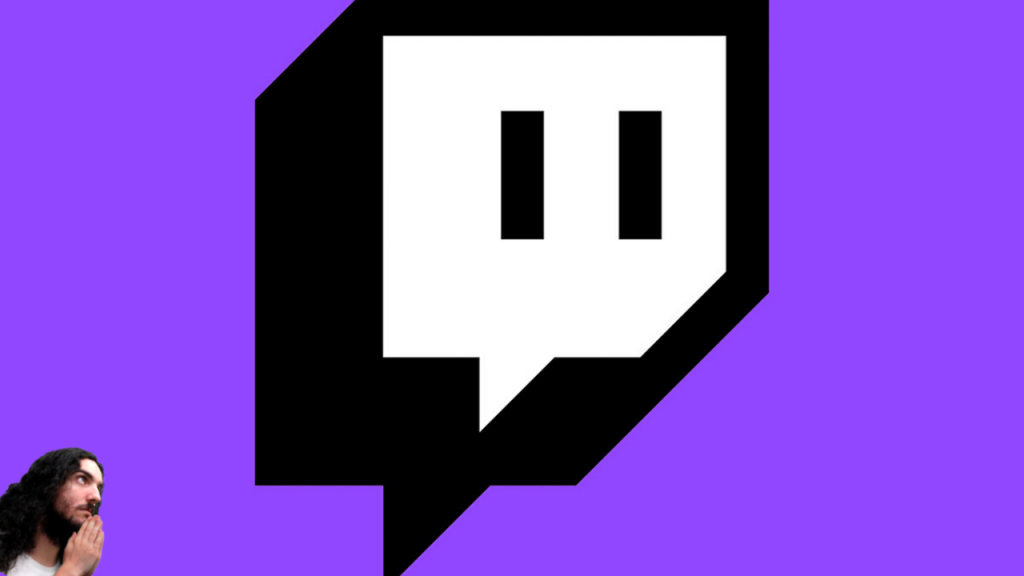 BlessRNG has been removed from Twitch (Picture: Twitch)
The allegations against BlessRNG were detailed in anonymously by Twitter user NotBraveOnMain, retelling a past filled with traumatic experiences leading up to the confrontation with the streamer.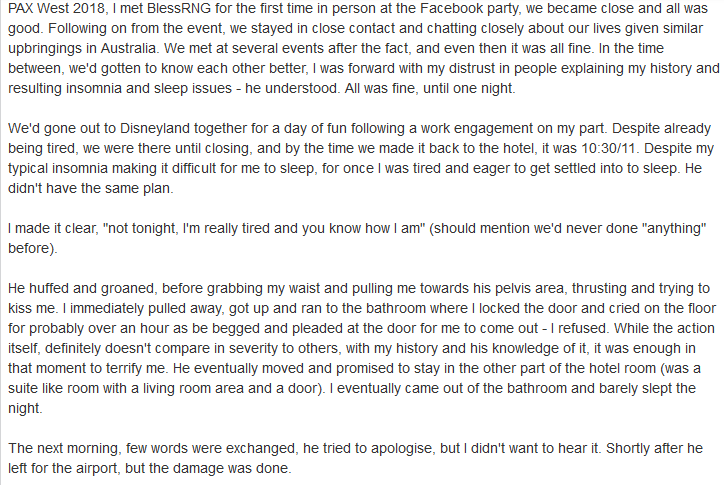 (Credit: NotBraveOnMain)
"He huffed and groaned, before grabbing my waist and pulling me towards his pelvis area, thrusting and trying to kiss me. I immediately pulled away, got up and ran to the bathroom where I locked the door and cried on the floor for probably over an hour as he begged and pleaded at the door for me to come out."
IAmSp00n also found himself accused of several transgressions like sexual abuse, manipulation, and cheating on different women. The streamer apologised and promptly requested sponsors to drop support for him across his social channels.
"I think the most sensible thing is to apologize. No excuses. No discussion. Just an apology. I've hurt countless people because of my overly sexual and flirty behaviour towards people that deserved much better than what I had to offer. I've betrayed people who cared and loved for me."
User CurvyLlama denounced Sp00n's behaviour on a Twitlonger posted on Twitter. "Sam's sex drive was very active and at times he would not take no for an answer. We would have sex then he would be ready again. After I would protest 'no' he would try little by little until I caved and we would do it again even though I didn't want to. So much to where I became sore a lot of the times afterwards. I was not comfortable and I really didn't know what to do/say," she wrote.
It remains to be if Twitch will continue to enforce this level of punishment as more and more cases surface. Interestingly enough, streamers that have already confirmed the sexual assault allegations against them like SayNoToRage, have yet to be banned.