It feels like every other day, another Twitch streamer gets banned for some, wardrobe malfunctions, showing too much of their bodies, or sexualized content. This is largely due to the hot tub meta. However, Twitch partner Quqco got on 26th May 2021 for an NSFW incident that didn't involve a hot tub, which is a bit surprising really. Here's why Quqco got banned and when she will return.
Quqco nip-slip incident on Twitch
Quqco's NSFW incident occurred one day after her birthday on 26th May 2021, when the Twitch streamer had a wardrobe malfunction causing what appears to be a nip-slip. 
It is important to note she was wearing pasties. Further, for those looking for images of the incident, go look somewhere else...
While Quqco will return to streaming on 27th May (which means it is a one-day ban) she did reveal some additional context surrounding her ban on Twitter, and took a jab at hot tub streamers in the process.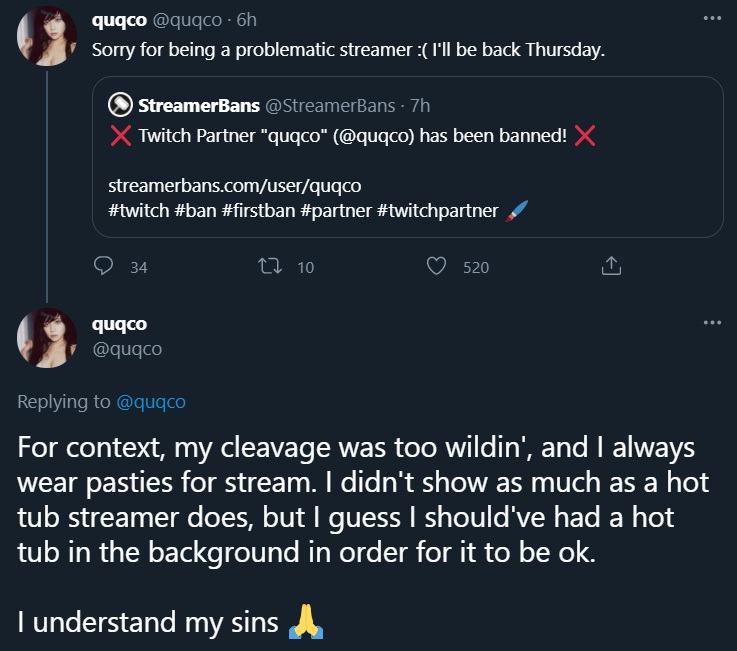 (Picture: Quqco via Twitter)
Quqco compared her recent NSFW incident with hot tub streamers, noting how they show more, and wonders if she would be banned if she had a hot tub in the stream: "I didn't show as much as a hot tub streamer does, but I guess I should've had a hot tub in the background in order for it to be ok."
Since StreamerBans tracks partners who've been banned, and only started tracking her in July 2020, fans might not know about she has two previous bans for NSFW incidents as well, featuring some revealing Street Fighter cosplay outfits.
Clearly, Quqco isn't completely innocent but there is a good topic to discuss in all of this. Would she have been banned if she was in a hot tub and not sitting in front of a PC at the time? That's a question only Twitch can answer.
Check out our dedicated section for more Twitch news, from the antics streamers get up to, to the hot tub meta and more.