Online grooming of underaged individuals has become a growing concern over the past years. Grooming is the act of preparing an underaged person (considered to be a child) via chat on the internet, with the intention of performing a sexual act with said underaged person. That's exactly what Twitch streamer "withawonder", who has over 20,000 followers on the streaming platform, has been accused of. 
Keep in mind that, at this point, withawonder has yet to respond to these allegations. Furthermore, the accusation of grooming has not been proven without a shadow of a doubt.
Twitch streamer withawonder grooming allegations
Taking to the LivestreamFail subreddit, a user going by the name WafflesAreExtinct posted a thread accusing withawonder of using his Twitch chat to find young, underaged girls, then invite them to his Discord server, followed by sending inappropriate, sexual content.
The accuser explains: "I had this guy followed for some reason in 2018. I randomly got in his stream again and typed something in chat. I guess my name sounds like a girls name, so he instantly DMd me and wanted my discord name. He immediately asked for my age and I told him I was 17 and after that, he sent me a video of him j$%#ing off."
The image below allegedly shows withawonder in his Twitch chat inviting the person to his Discord channel.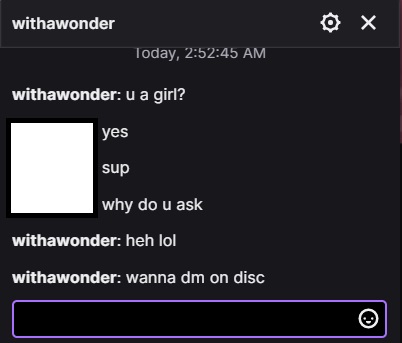 (Picture: WafflesAreExtinct)
The next image shows what appears to be withawonder asking the person in question how old they are, and once confirmed that the girl was underaged, images of chat continue, including one where withawonder touches himself...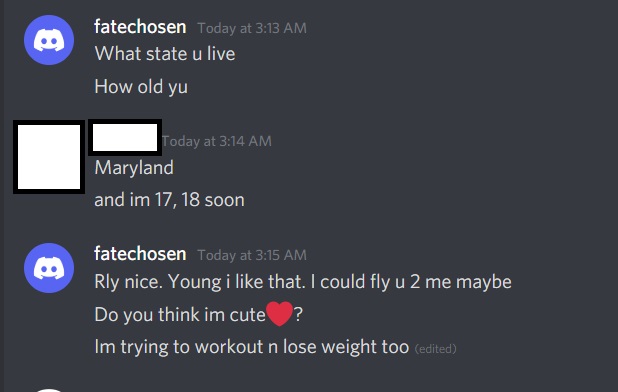 (Picture: WafflesAreExtinct)
That's not all, however, as another image shows how withawonder reacted to the person saying they would post the interaction in question on LSF.
withawonder allegedly responded with racist comments. We've edited out the racist words in the image below.

(Picture: WafflesAreExtinct)
Okay, so that's quite the ordeal, right? These grooming allegations against Twitch streamer withawonder are, of course, serious.
If true, it's beyond disgusting. However, things get even more suspicious. Redditors have found accusations against withawonder from all the way back in August via this Tweet. 

The images above were allegedly captured and saved from now-deleted tweets.
Since these new accusations have come to light, withawonder's Discord server is no more, and his Twitter account has also disappeared...
Lastly, once the latest allegations were dropped on Reddit, withawonder asked fans on his Twitch stream if there is a program he can download to delete every video of his harddrive...
At the time of writing, please remember that these are just allegations lodged against withawonder, and we are reporting them as such.
This is a developing story, and we will update you once more information becomes available. At 15:00 CET on 23rd June 2021, his Twitch channel is still active but he has not streamed since the accusations came to light.
Don't forget to check out our dedicated Twitch section, filled with news, drama and much more.
Header image via withawonder Twitch stream.